Disclaimer: The following post is part of a campaign, review or sponsored post. I was given the product and/or have been financially compensated for the following post. Post may also contain affiliate links. As always though all thoughts are 100% my own, as are most of the pictures included.
Mother's Day Tote by Bath and Body Works that I was lucky enough to receive.
I am late posting this, but still wanted to pop in a bit and talk about it. Don't forget you can get the chance to be an insider for Bath & Body Works too, just check it out over
here
.
I love when Bath & Body Works does the special get this amazing filled thing (weather it be tote, purse, etc) for so many after you spend so much. I have bought them myself several times because its such an amazing deal and I love usually whatever it comes in.
The one that was the special for Mother's Day was no exception. It was amazing!!! I am in love with the tote all the goodies came in. In fact, its what I have used for my purse now since the day I got it.
There was so much inside that I just can't talk about it all. Plus I put away quite a few things that were in the bag into my gift tote for later gift giving. Weather it be a giveaway on here or birthday or Christmas gifts!
I LOVED it all though, seriously. Check out the haul that was in the bag below.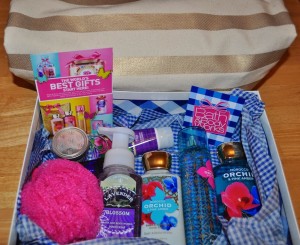 Have you taken advantage of the specials they run with the goodie filled things? What do you love about them?