Disclaimer: The following post is part of a campaign, review or sponsored post. I was given the product and/or have been financially compensated for the following post. Post may also contain affiliate links. As always though all thoughts are 100% my own, as are most of the pictures included.
Disclosure: I got this product as part of an advertorial.
About Saving Gracie by Nancy DeMarco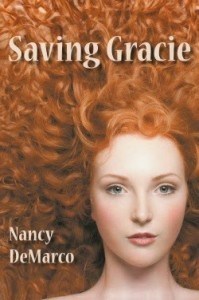 Synopsis from Amazon:
When Gracie is accosted by a redheaded ghost, everyone assumes she's hallucinating. Again. But to Gracie the dead girl is real, and she bears a message:
Someone will die tonight.
Sure enough, a body surfaces in Echo Pond, and the town of Coyne Falls plunges into chaos. In the furor that follows, the victim's widow jumps out a window, a dead man sends text messages, a missing person is duct taped to a toilet, and a beagle runs howling into the night.
Meanwhile, the ghost sends Gracie on a mission: "follow the beagle" to save a life.
My Thoughts on Saving Gracie by Nancy DeMarco
I was pulled right in from the start while reading this book. I got a kick out of the lead, Gracie, who is an older woman leaving in a home for mentally unstable people. Gracie is a little old woman full of spit fire and determination. She says what she thinks and nothing else.
Gracie and the beagle are best friends and wherever Gracie goes, the beagle goes even though the beagle lives next door.
There were a few times I felt there were to many people in the book to follow, but I quickly picked up on who it was and how they wrapped themselves into the book.
Its full of mystery and romance, which always a nice little combo to read about. You never know what turn might be next.
A great cute book though. One I would recommend for all you to pick up and read, you won't be disappointed I am sure! Buy it now on Amazon.
I received one or more of the products mentioned above for free using Tomoson.com. Regardless, I only recommend products or services I use personally and believe will be good for my readers.