Disclaimer: The following post is part of a campaign, review or sponsored post. I was given the product and/or have been financially compensated for the following post. Post may also contain affiliate links. As always though all thoughts are 100% my own, as are most of the pictures included.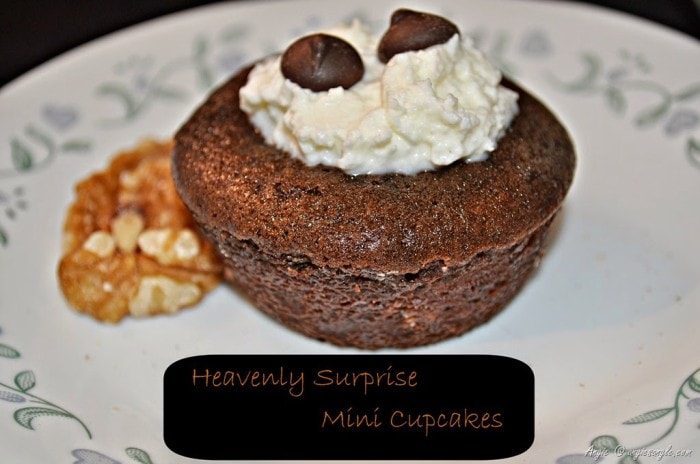 As I have stated time and time again, I am not a big part of what goes on in the kitchen for the most part. When it comes to cooking or even baking, I'd rather just not do it. I don't like it and just don't get it. Weirdly though I love buying new kitchen gadgets and adding wonderful amazing products to our kitchen to ease the kitchen hassle and even clean up time (which I do all the time myself).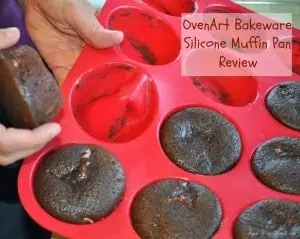 Which is why I was pretty excited to be accepted to review the new
OvenArt Bakeware Silicone Muffin Pan
. I am getting this up later than I would have liked, but trying to figure out what I wanted to make in this new muffin pan to test out was the issue for me. I finally found a yummy cupcake recipe in my Taste of Home Comfort Food Diet 2011 and knew that is what I was going to test it out with. As always though, the recipe is not mine, but I got it from the above book.
Heavenly Surprise Mini Cupcakes

Heavenly Surprise Mini Cupcakes

Ingredients

Filling:
1 package (8 ounces) cream cheese, softened
1/3 cup sugar
1 egg
1/8 teaspoon salt
1 cup flaked coconut
1 cup finely chopped walnuts
1 cup (6 ounces) miniature semisweet chocolate chips
Batter:
2 cups sugar
1-1/2 cups water
3/4 cup canola oil
2 eggs
2 teaspoons vanilla extract
1 teaspoon white vinegar
3 cups all-purpose flour
1/2 cup baking cocoa
1 teaspoon baking soda
1 teaspoon salt
Frosting:
1-1/3 cups semisweet chocolate chips
1/2 cup heavy whipping cream

Instructions

For filling, in a small bowl, beat the cream cheese and sugar until light and fluffy. Add the egg and salt; mix well. Stir in the coconut, walnuts and chocolate chips. Set aside.
For the batter, in a large bowl, beat the sugar, water, oil, eggs, vanilla, and vinegar until well blended. Combine the flour, cocoa, baking soda and salt; gradually beat into oil mixture until blended.
Fill paper-lined miniature muffin cups(or silicone) one-third full with the batter. Drop the filling by teaspoonfuls into each muffin cup. Top with additional batter, filling the muffin cups three-fourths full.
Bake at 350º for 12-15 minutes or until a toothpick inserted in the cake portion of a cupcake comes out clean. Cool for 10 minutes before removing from pans to wire racks to cool completely.
For frosting, in a small saucepan, melt chocolate chips with cream over low heat; stir until blended. Remove from the heat. Cool to room temperature. Frost cupcakes. Refrigerate leftovers.

Notes

*Cupcakes may also be baked in 30 paper-lined (or silicone) muffin cups for 20-25 minutes

https://angiesangle.com/2014/06/ovenart-bakeware-silicone-muffin-pan-review-heavenly-surprise-mini-cupcakes-recipe/
My Thoughts on OvenArt Bakeware Silicone Muffin Pan
I enjoyed using this silicone muffin pan. It was so easy to clean. Is dishwasher safe too. Making clean up even easier. All I had to do was wipe out the crumbs from the cupcakes and that happened with ease.
Most of my cupcakes popped out of the muffin pan very easily, but some stuck and fell apart as I was taken them out. Which could have been my error, or the pan itself, which I doubt.
Overall I loved this pan and look forward to using it more in the future and getting to know how to use the silicone to bake with whether it is more cupcakes, muffins, or other various personal-sized treats.
Stated from Amazon About the OvenArt Bakeware Silicone Muffin Pan:

Silicone muffin pan crafted with 100% BPA-free, filler-free, and worry-free premium silicone

Remarkable nonstick performance without the use of toxic chemical coatings

OvenArt's signature Frustration-Free Cleanup lets you bake more, clean less, and finally say goodbye to soaking and scrubbing

Will not produce awful smells or muffins that taste like plastic unlike lesser silicone bakeware

tandard cupcake pan / muffin tin size: 12.8 x 9.7 x 1.2 inches, each cup holds 2.5 ounces and measures 2 3/4 inches across.

Safe for use in oven, microwave, freezer, and dishwasher. Protected by OvenArt's 100% "Better Muffin" Lifetime Guarantee.
You can buy it at Amazon right now – OvenArt Silicone Bakeware – Muffin Pan / Cupcake Pan – $14.95
Have you already tried Silicone baking? What have you thought if you have? If you haven't, do you want to try them?
I received one or more of the products mentioned above for free using Tomoson.com. Regardless, I only recommend products or services I use personally and believe will be good for my readers.