Welcome to Project 52. One theme, one photo, once a week. Simple. I hope this project will help you grow as a photographer. Amy, Sarah and I are going to co-host this link up each week. Each of us will pick a favorite from the previous link up to share each week.
My personal favorite from last week was a hard one to choose, I liked so many of them. Am thrilled that so many of you are playing along and hope more of you will link-up with for this week's theme.
But, my favorite was from Angela over on Instagram @aford21 – she took a beautiful photo of the "morning" time. Sadly, since it's on instagram I can't share it here. But just take a peek at it and tell me you don't agree it's just beautiful – Morning Sunrise.
Project 52 – Week 2 – Your Everyday
I knew almost right away when reading what this past week's theme was what I was going to be taking a photo of. It was just the matter of taking it. I love it when that happens. When you know what the subject will be and just have to take the moment to snap it. Wish all weeks were like that!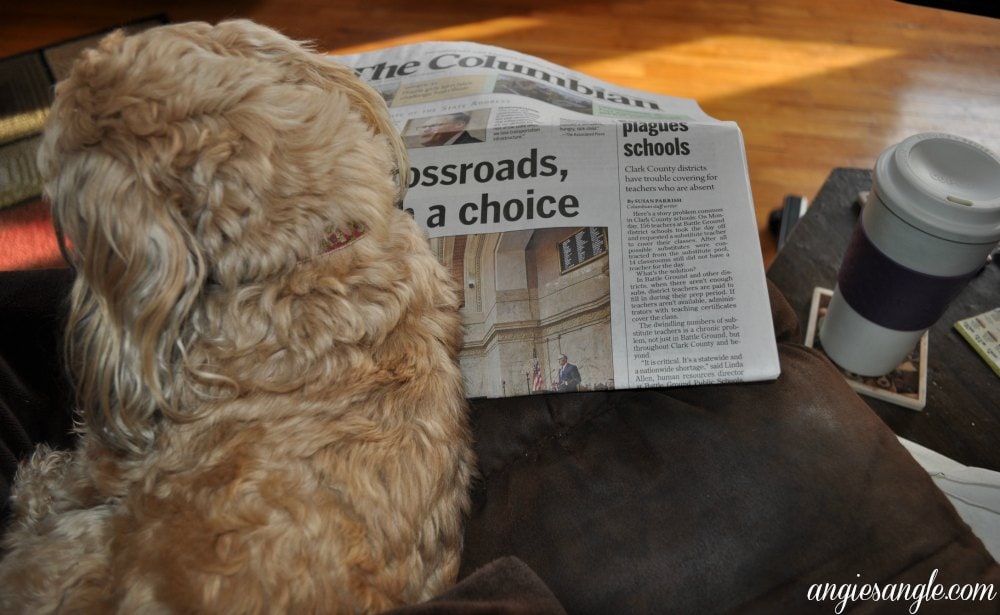 This is my basic everyday, at least in the morning. Roxy not so patiently waits for me to do my morning things before we sit down with my coffee and the morning newspaper. She then hurriedly climbs into my lap. Mind you this is only a fall/winter time habit, during the spring/summer she doesn't do it as often.
There we have just one of Your Everyday things. It makes me smile and brings comfort to me to have such a routine and habit.
Here are the themes for the next 52 Weeks. Feel free to join in at any time!
Feel free to join us on instagram using the hashtag #Project52Photos.
Project 52
This Weeks Theme: Out of Focus
Next Weeks Theme: Shadows
Grab our button and share on your blog so others will join.
Come back next Friday and link up "Out of Focus" photo.