I'm so late getting this up, I am sure most of you have seen somewhere someone sharing their Influenster Frosty VoxBox goodies. But, to do my duty I wanted to introduce you to what was included in it, just in case you hadn't already ran across it somewhere.
There will be a couple of things I'll be blogging about a bit more in-depth within the week or thereabout, so keep your eye open for those.
Influenster Frosty VoxBox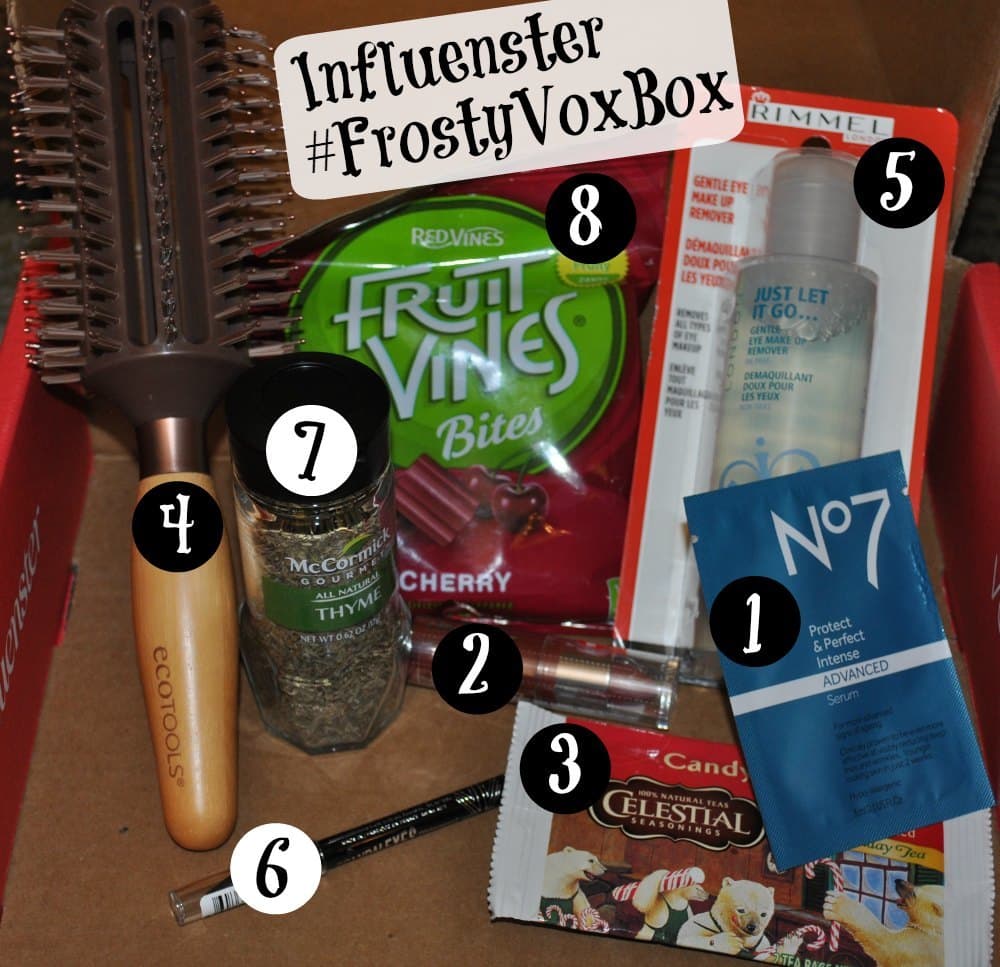 No7 Protect & Perfect Intense Advance Sachet – full-size product is $29.99 – suppose to help reduce the appearance of deep lines & wrinkles, for younger looking skin in two weeks. Since its only these small sample, couldn't tell you if it does anything.
NYC Expert Last Lip Color in Sugar Plum – $1.99 value – there are 20 tantalizing shades to choose from as well. I love this lip color though, it's so light that you just barely know it's on. I like that in lip color. It glides with ease too on your lips.
Celestial Seasonings Candy Cane Lane Decaf Green Tea – I haven't tried this yet because I am horrible about drinking hot tea. I usually have to be forced, but I love that its peppermint candy cane inspired.
EcoTools Hair Brush – $10.99 value – at first I was a little disappointed at getting this type of brush. As I don't blow dry my hair and that is what I imagined when I saw it. But happily I used it after I flat ironed my hair and it volumized my hair without ruining my straightening.
Rimmel Gentle Eye Makeup Remover – $7.49 value – No oily residue as you wipe away your makeup, even long-lasting and waterproof types. I used this a few times and found it only took a few swipes to get off my makeup.
Rimmel Scandaleyes Waterproof Kohl Kajal Eyeliner – $4.49 value – One of my all-time favorite eyeliners, even before receiving it from this box. It glides on easily and is creamy and smooth. Love it. I have compared to another high-priced eyeliner before, will be doing a full post on this one probably next Beauty Monday.
McCormick Gourmet Thyme – $4.79 value – Used in such dishes as breakfast casseroles, hearty soups, stews, stuffing, and over-roasted chicken. We haven't used this just yet, but I know we will and will love it!
Fruit Vines Bites – $1.28 to $1.79 value – low-fat and made with no preservatives. So tasty! Flavors are strawberry and cherry. We already finished the bag, so I don't know how well I am going to do on the challenges for this one. You can find it at Walmart, Kroger, Walgreens, Target, Safeway and Rite Aid. You are going to want to find it too. Trust me!
If you'd like to join Influenster and get VoxBoxes like this one. Just hop on over and sign up right now. Join Influenster!