I already introduced you all to my best friends Debbie & Kris. As I said, this first spark of the idea came from Crowdtap and knew I had to tell the tale of all my best friends, not just one. So, to continue my journey, I'd like to introduce you to Teresa.
The Story of Teresa and I – How I Met My Best Friend
Teresa and I probably met and became friends in the oddest way possible. Which is saying a lot with how I personally tend to meet people.
We actually met through her ex-husband. Which I couldn't tell you how it all started other than the fact that we were all on livejournal and it must have been at some point that we started talking to each other and branched that friendship field. I do know we became friends on livejournal and commented on each other's blogs for quite a while before meeting in person.
Again, I must have the worst memory alive but I can't remember when we met in person or what exactly we did. But we started hanging out in real life more often and enjoyed each other. Sometimes it was hard to get together with her since she lived in Spokane and I in Coeur d'Alene at the time (oh boy if only we could have been better than), which is only like 15 or so minutes from each other. Really it wasn't a big deal, but sometimes it seemed a million miles away, kind of like from here to Portland.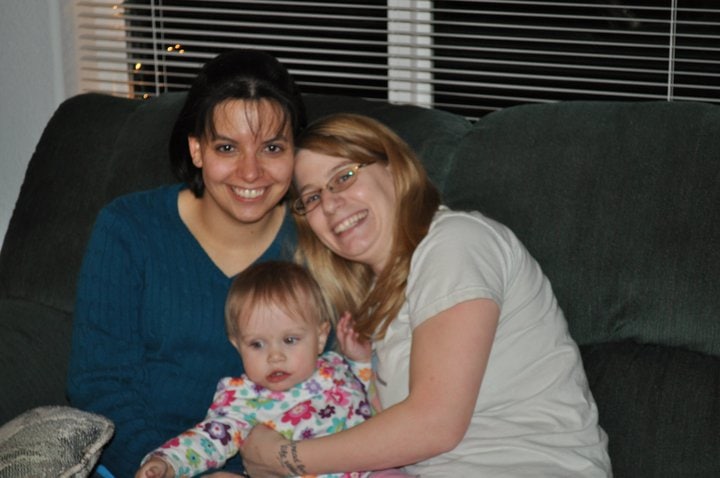 Just before we moved to Vancouver, we decided that one of our traditions was going to be Christmas Eve together. Where'd we watch It's A Wonderful Life, exchange our gifts and play games. If only we had known how that next year was going to change our lives.
Now we live 6 to 7 hours from each other and are lucky if we see each other once a year. It makes me sad, but we send each other gifts and cards in the mail to let each other know we are thinking of the other and still love them.
She did come over a couple of years ago to get Lasik done on her eyes and it was the most fun we had in a long time because it was just the two of us. We still had that whole conversation with just looking at each other while waiting in the waiting room of the Lasik center. We giggled and pointed out all the goodies we would want in the Container Store. And even though she came home after surgery and slept the rest of the time she was here. It was still the BEST.
She'll always be one of my best friends because she is quirky and fun and I love her.