A couple of weeks ago, I did a post about How Debbie and I met. It was for a giveaway on crowdap, but inspired me to tell you all the story of how I met each of my best friends.
I debated with myself who I'd be going with this time around, I decided to go with the one I have known the longest. Not necessarily been best friends with that whole time, but she has been in my life for a very long time.
The Story of Kris & I – How I Met My Best Friend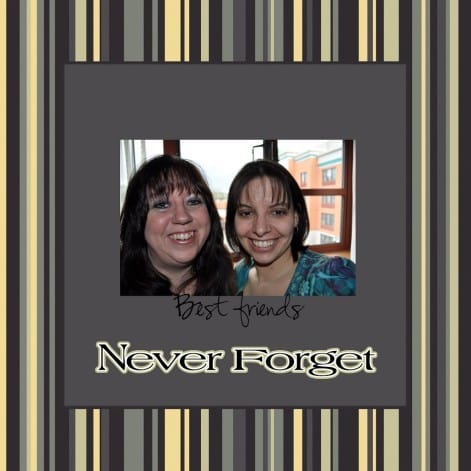 Kris has been in my life, as I said, as long as I can really remember. She dated my brother, Randy and later married him and even later they divorced. I remember recording them talking on my little radio as I was hiding behind something. I remember them going to a prom or dance.
During the summer sometimes I'd go to their house for a bit, many gaming times at Christmas and other family Holidays. I recall the heater going out in our trailer and Kris and Randy coming over early in the morning/or late at night depending how you look at it and Kris hugging me warm and keep me occupied.
I also remember when my cousin Jeff died and Kris was stuck at my side because it had hit me hard even though Jeff and I were not close, barely knew each other, but he was my age. And he had died? How was that possible? Why?
Oddly, it really wasn't until I got married and Kris stepped in as my matron of honor that we became thick as thieves. Maybe just as odd, my brother and Kris were in the midst of separating and divorcing at that same time.
When we moved over to Vancouver, WA from Coeur d'Alene, ID – she was the first and many times over to come and visit us and stay with us. It became our tradition for her to come over on her son's Spring Breaks. Also in our tradition we'd go to the coast for a night or two to play at the casinos and shop at the outlet mall. Now though, her son, my nephew, is a big adult working down in California. I am not sure what will happen to our tradition, but I hope it can stay intact in some form.
We are so alike in so many aspects yet so different in others. We love to sit on our computers and watch odd/trashy Tv and nothing usually could make us happier. She is loud and outspoken while I am the quiet one. We both love books, games, and makeup. Probably countless other things too.
She might not be my sister by blood, but in my heart and soul she is my sister and always will be. Not only my sister but one of my very best friends forever.