I had every plan to get this post schedule to go live like normal for Thursday evening, but somehow I completely skipped a day in my week. First, I thought it was odd that Kathie Lee and Hoda were saying that tomorrow was Try Day Friday. I am like, what? Tomorrow isn't Friday and went on my way. THEN, as I was getting pictures for an upcoming blog post for Monday it dawned on me again oh crap, it's Thursday night. *sighs* Such good intentions that went out in the wash.
I kind of like that at the start of each Catch the Moment post, I kind of do a catch up on the last week to go with my photos. Since I don't do a lot of catch up on the weekend things (since we usually don't do a lot), this is a fun way to throw it in a bit. I hope you don't mind!
I've been in a worrying stump once again, which has left me not doing my normal work. I'm sorry about that, I can only hope it improves in time once again. At least though I got a variety of pictures this past week despite my worrying. Score one for me.
I have flown through the book Wild by Cheryl Strayed (amazon associate link). My lovely April, over at Saving for my Family bought it for me a couple of months back and I got on my hands on it on our way home from our getaway Sunday and I am almost done. Just a few short pages left. So good! I can not wait to watch the movie now, especially so because I just love Reese Witherspoon.
Catch the Moment 365 for 2015 – Week 19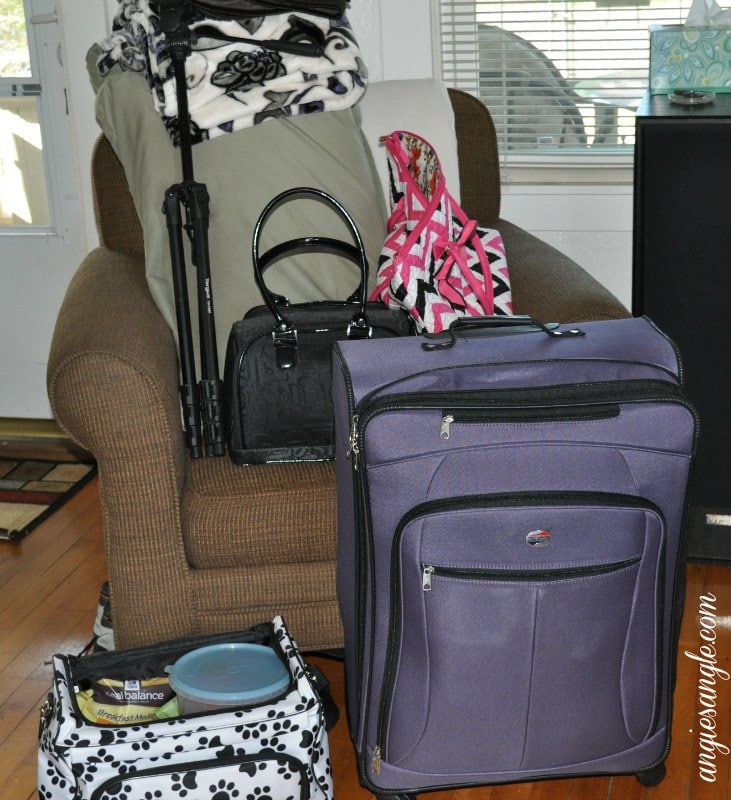 Day 127 – Thursday, May 7th – Our things are ready to go get loaded in the car as soon as Jason got home from work. Our first getaway since September. Was excited to use our new luggage. We didn't leave until 7p.m. from Vancouver and didn't arrive in St. Maries until 2:30a.m. Travel actually went well though.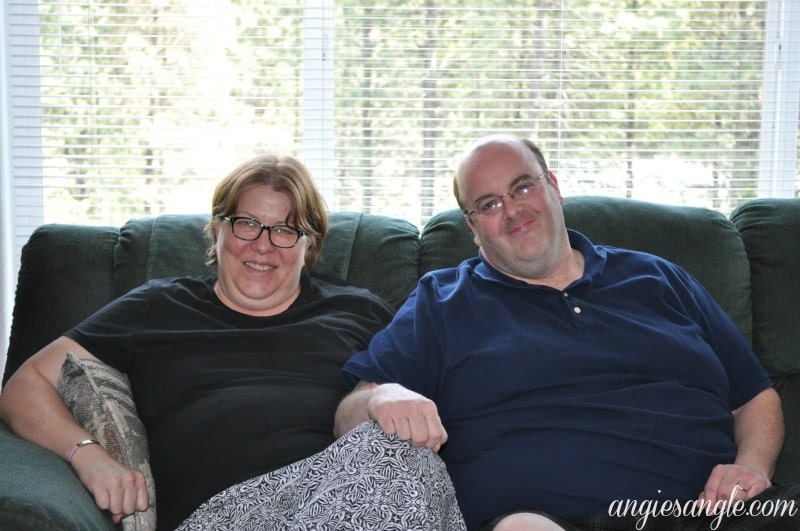 Day 128 – Friday, May 8th – Mary, my sister-in-law, and my brother Richie were over visiting Idaho from Maine. Was our reason for heading over. We would have left Friday morning, but my other brother Randy was flying back to California that night, so to see him too, we had to leave Thursday night. I was able to at least see them Randy and my nephew Travis. I missed when everyone else was up, which made me sad.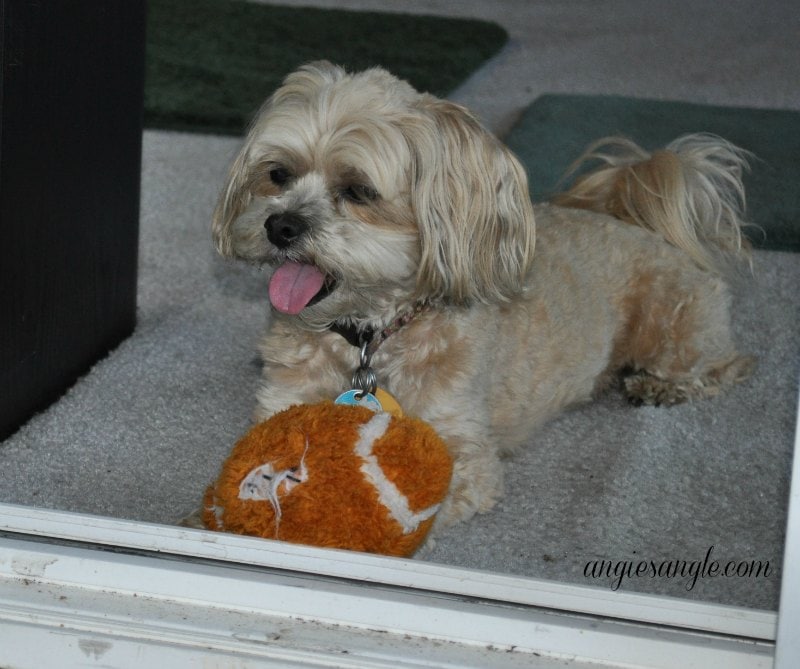 Day 129 – Saturday, May 9th – Roxy had so much fun playing at Grandma's.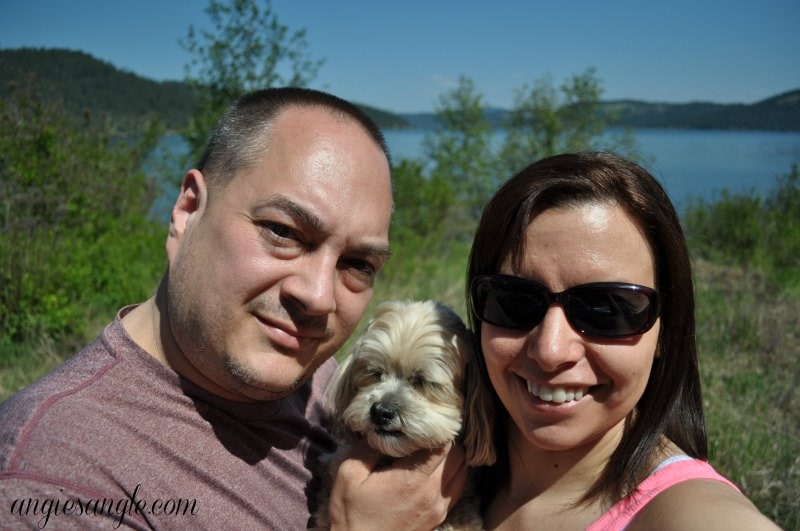 Day 130 – Sunday, May 10th – On our way home. We stopped to take some pictures of the lake and I decided a family picture was in order.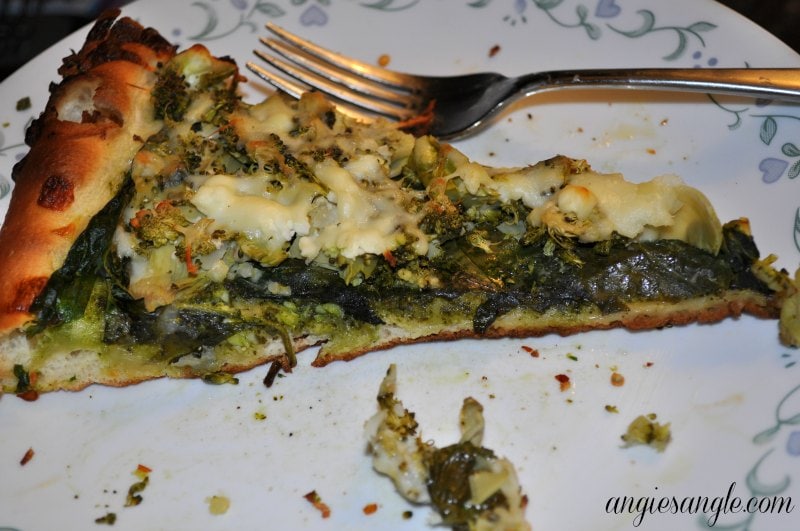 Day 131 – Monday, May 11th – Of course once we got home Sunday night we didn't feel like trying to figure out what to have for dinner. So we ordered pizza and salad from a place downtown we like and ended up having so much left we had dinner for this night. It was a super-healthy pizza, which was nice! We could have done without the broccoli on it though.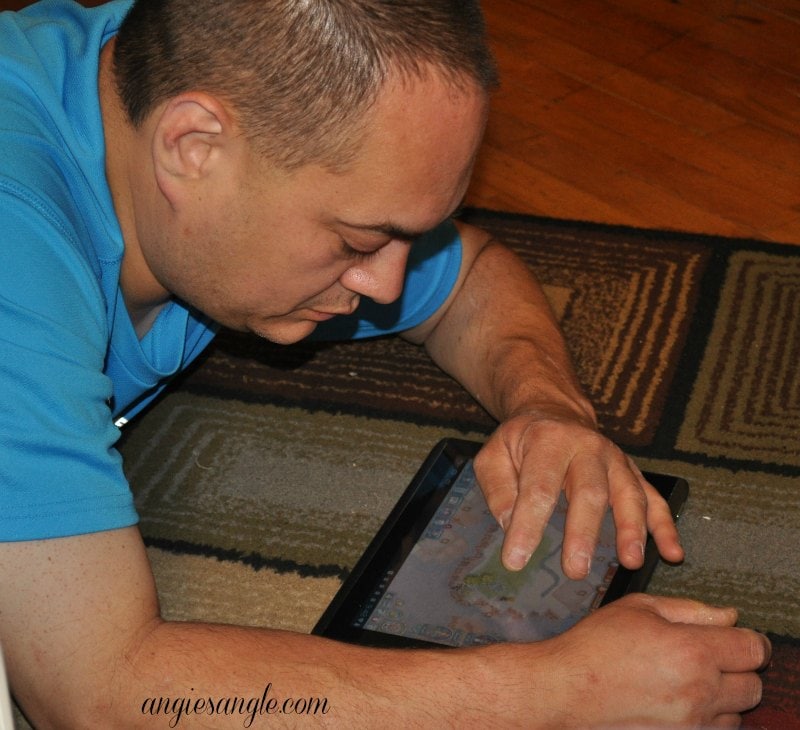 Day 132 – Tuesday, May 12th – Before we headed out to Fred Meyer, Jason took a minute to play his Tribez game. We are both hooked and love the game.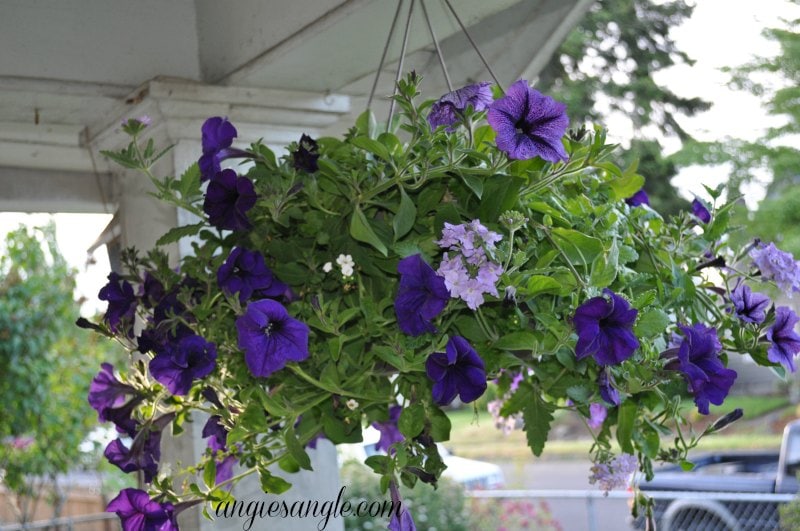 Day 133 – Wednesday, May 13th – I have wanted hanging plants for our porch since we moved in, but Jason was always saying just wait until we get the porch rebuilt. Well, the porch isn't rebuilt still, but I now have two hanging plants on it. Now let's hope I don't kill them.
How was your week?