I've just recently started to worry about the look of my skin, more than just your average wanting it to look nice. I've been noticing a bit uneven skin texture and just overall aging on my skin as lately. Me being into beauty as I am, it was time to search for a product to help take away some of the aging I have been seeing.
I ran across the Radha Beauty's Clearing Serum on BrandBacker and decided to apply to review it, thinking it sounded like it could be a great product and one I wanted to test out. I was lucky enough to get picked and I have been now using it for a bit over a week or so. I don't feel that it has been a huge amount of time to know how the product works fully, but enough to give my thoughts on it.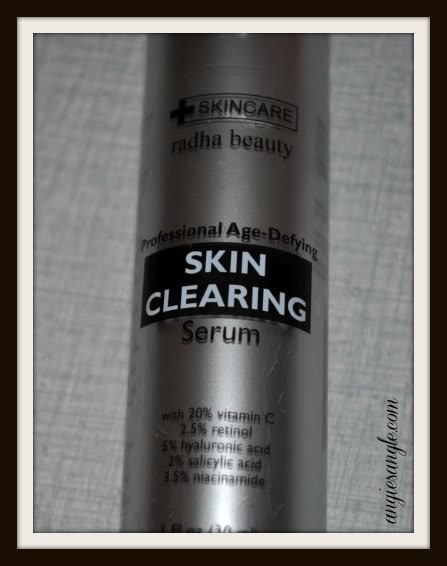 Radha Beauty's Clearing Serum is made with 20% Vitamin C Serum, Retinol 2.5%, Salicylic Acid 2%, Hyaluronic Acid, Rosehip and Lavender Oil. Meant to be gentle and safe for all skin types.
This clearing serum by Radha Beauty's is meant to help reverse the signs of aging while improving the appearance of blemished skin. Not only does it do that but it also unclogs pores, provides natural sun protection, heals acne, and undoes the signs of aging.
After having tried the Radha Beauty's Clearing Serum for a bit, I can say I love the way it glides on my skin and quickly absorbs. After applying the serum, I applied my regular moisturizer and didn't leave a sticky feeling even after doing that like some serums I have tried in the past. All great points.
I personally though haven't noticed any difference thus far in my skin. And I have a slight rash on the side of my eyes, but I can't say for sure if it's from the serum or something else that came in contact with that area recently. I just thought it should be noted in case it was from the serum.
I am going to keep using the product and see if I start to notice any difference down the road. As I know products take time to actually work and do as they say.
Do you find serums work for you? Are you interested in giving Radha Beauty's Clearing Serum a try?
Powered by BrandBacker