I have had the pleasure of reading Vampire Vic by Harris Gray. I don't know if you saw earlier or not, but I did a little blimp on the Harris Gray team last month too, in hopes of getting you hyped for the book reviews I am doing on Vampire Vic and Vampire Vic 2: Morbius Reborn.
Today I am here to tell you a bit about Vampire Vic and my thoughts on it!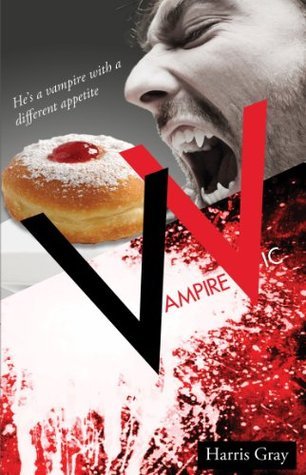 Vampire Vic Book Review
About the book from Goodreads:
Would you give up donuts…for blood? Fat, balding accountant Victor Thetherson hoped becoming a vampire would turn his life around. But Victor can't stomach confrontation and gets queasy at the sight of blood. Instead he gets it from the blood bank, diluted in bloody Bloody Marys. The result: a vampire who doesn't bite, and a man who gets no respect.
Victor's slacking staff mockingly calls him Vampire Vic. Victor's boss amuses his wife by intimidating Victor on video. His ex makes him stay out late while she entertains boyfriends in the house she insists they continue to share. One night it finally boils over, and Victor bites someone. And then another…and very soon, he's no longer visiting the blood bank.
Muscle replaces fat, and his comb-forward widow's peak takes root. Victor basks in newfound attention and respect, at the office and at home. But real vampires get hunted, and as the transformation reaches the tipping point, Victor must decide how much he's willing to sacrifice for the power of the vampire.
My Personal Thoughts on Vampire Vic
It took me a bit to get into the story. I loved the Vic was just your average human, even after becoming a Vampire. He went about his day as any normal human would and only got blood from the blood bank. Otherwise, you would never know he was Vampire even though everyone does know he is one.
That is until he bites someone and the world changed from there on out. He just couldn't stop, he needed to bite and bite some more. It became a game to him. It was until he found just how he became a Vampire that things got serious and took a huge turn.
I thought the book was decent, I loved that it wasn't just your average Vampire book. It has humor and little twists that made it fun. While it was hard for me to follow at times, it was still an enjoyable read and one I would recommend to others that enjoy the Vampire tales, especially with added in humor and twists.
I can't wait to let you know what I think of the second book Vampire Vic 2: Moribus Reborn as soon as I finish it. I hope to get it up on the 30th of September, so keep your eyes peeled.
If you'd like to buy Vampire Vic, you can find it on Amazon in both a kindle and paperback version. Buy it today.