I have a high interest in tea tree oil. I did a brief review on an actual tea tree oil alone but ran out of time to test any theories on how it works in my shampoo and conditioner.
Thankfully I was able to review the Luseta Tea Tree & Argan Oil Shampoo & Conditioner. Since it already had that tea tree oil in it like I had wanted to try with the bonus of argan oil, I had to give it a try to see what I thought.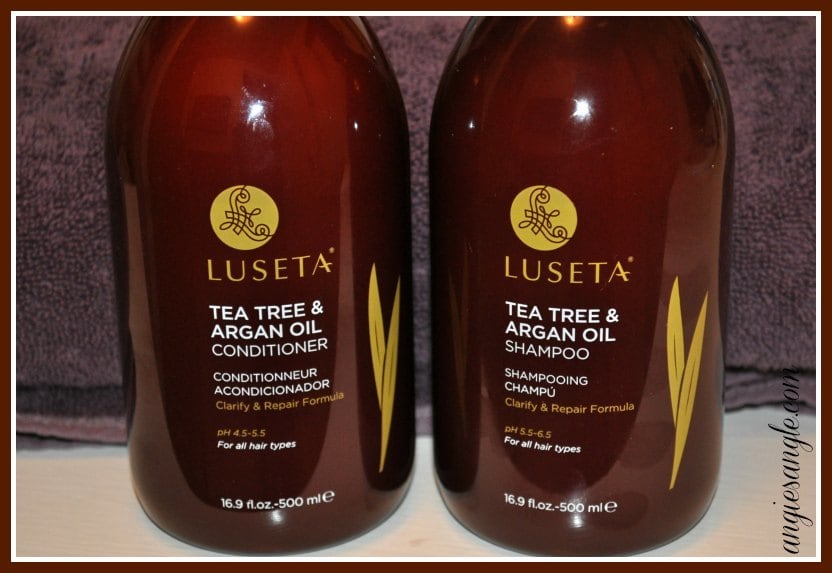 I've used it for a few weeks now in the shower and have loved it.
While applying the shampoo to my head and hair, I notice a slight tingle as it works it way into my scalp and does its job. It also has such a pleasant smell that makes me happy while using the product.
The conditioner makes my hair silky smooth feeling, which I love. Again, it smells so great!
Using this combo, I have noticed a bit less build up on my scalp, which again I love. I tend to get this odd feeling on my scalp no matter what I use to wash it or what products I put in my hair. So finding I had less of a build up was an awesome bonus for me.
Luseta Tea Tree & Argan Oil Shampoo & Conditioner
Sulfate, phosphate, & paraben free
Effectively cleanses and purifies the scalp of impurities.
Leaves the scalp and hair feeling refreshed.
Works to improve the health of hair to encourage growth.
Shampoo pH 5.5 – 6.5
Conditioner pH 4.5 – 5.5
Tea Tree Oil is widely known for its antiseptic properties. While Argan Oil has high quantities of vitamin E which help promotes hair growth. Together they do amazing things!
I hope as I keep using this product, which I so am, that I'll notice more hair growth because that would make it even more amazing to me.
Are you interested in trying out the Luseta Tea Tree & Argan Oil Shampoo & Conditioner? Check them out at Luseta Beauty and take the pledge and try it. It's affordable which makes it even easier to try it out yourself.