I've been a member of Influenster for many years, but since so many have joined over the years, the vox boxes I have gotten have been infrequent now. I was pretty excited when it said I was finally getting a voxbox a couple weeks ago and at my doorstep arrived the L'Oreal Extraordinary Oil Hair Care!
I got my results with L'Oreal Extraordinary Oil Hair Care System by using it for a full week before coming to give my thoughts on it. Included in my voxbox were the shampoo, conditioner and the serum.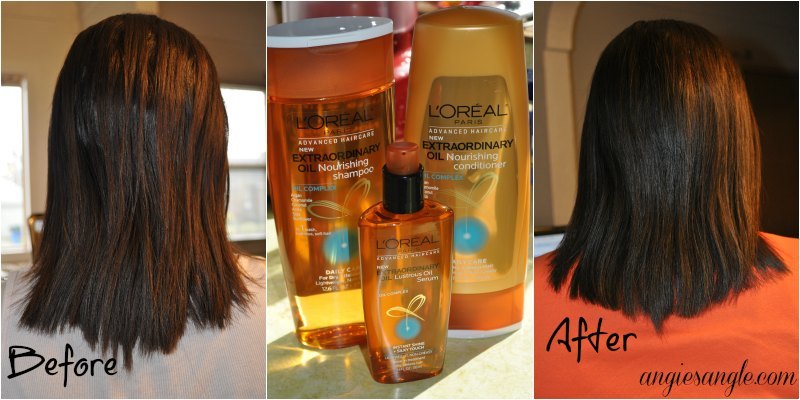 My Results With L'Oreal Extraordinary Oil Hair Care
First please don't mind my uneven little tail there. I cut my hair myself and thought I did really well; until Jason went to take these photos & I saw that little tail. It will be fixed soon. It's what happens when you haven't gone in to get your hair professional cut in almost a year.
I also didn't think to take an actual before picture before I started using the system, so the before picture is just before I washed it again, but I still think it gave a good difference in the look of the hair and even the texture of it.
I was curious on how using oil as a cleanser and conditioner would work when it comes to cleaning your hair. Doesn't it seem kind of odd that you'd use that to clean with? But then I thought, I used a facial oil cleanser and really liked the way it cleaned, so this is probably the same kind of thing.
The first time I used it, my hair felt so soft and amazingly touchable even before I went to flat-iron my hair. I thought this stuff is amazing. Could it get any better? The serum I applied after cleaning before I pulled it back to dry and then again after I flat ironed it. Neither time not using very much and applying first at my ends and working my way slightly up.
As I said I used this for a full week not using any of my other systems and found that the oil tends to build up on the scalp and left my hair oily after using it instead of the soft touchable hair I had the first time around. I found that if I used other things in my regular work and went back to this, my hair again was that super soft touchable hair without the build up.
So my suggestion is to use other things with it, but without a doubt use this system. It's quite amazing. My hair isn't normally very soft, it's rough most likely because my natural state of my hair is curly and frizzy and I flat-iron it to make it smooth and touchable.
Have you used an oil shampoo before? Are you interested in trying this one? What kind of hair do you have?