I received Swagbucks for posting about this promotion. If you join with any of the links provided below, you'll become my referral and I'll earn while you earn.
Growing up, I loved the Highlights magazine. It was so fun to read and do the little puzzles inside. Heck, who am I kidding? It would probably still appeal to me today. With this special offer, you can order highlights snag bonus Swagbucks while doing so. It couldn't be easier and you get an amazing subscription for your children.
Check out the details below.
Order Highlights Snag Bonus Swagbucks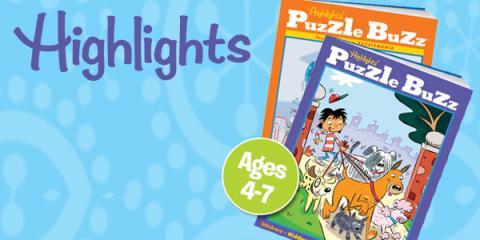 Swagbucks is running a great deal where you get 800 SB ( the equivalent of $8) when you get two free Puzzle Buzz books for your kids from Highlights! You pay $2.98 for shipping and handling, meaning that you walk away with a $5 gift card of your choice. This deal is running through the rest of March and is perfect for the little readers in your life. Even the youngest child learns to tackle activities independently — and puzzle-solving skills grow.
Here's what you need to do:
1. Click here to get to the deal and create your Swagbucks account if you don't have one. You'll be my referral!
2. Click "Continue" and complete the offer. Your SB will be credited almost instantly!
3. If you're signing up as my referral, you'll get an additional 300 SB bonus for completing this offer, meaning that you'll net $8:
Complete offer: $8
Bonus: $3
Shipping and Handling: -$2.98
Net bonus: $8.02
If you're not familiar with Swagbucks, it's a rewards site where you earn points called SB for discovering deals (like this one), online shopping, taking surveys, watching videos, and even searching the web. Then you can turn those points into gift cards from places like Amazon, Starbucks, Walmart, Target, PayPal, and more!