I received Swagbucks for posting about this promotion. If you join Swagbucks with any of the links provided below, you'll become my referral and I'll earn while you earn.
Happy Sunday my lovely readers! I thought I would pop in today to encourage you all to sign up for Swagbucks this Fall. With this three for Fall with Swagbucks. Read all the details below and sign up today. It will be well worth it. Trust me. And if you ever need help earning, feel free to reach out to me.
Enjoy the rest of your Sunday and if all goes well I'll have a new Beauty Monday post for you tomorrow. Keep your eyes peeled.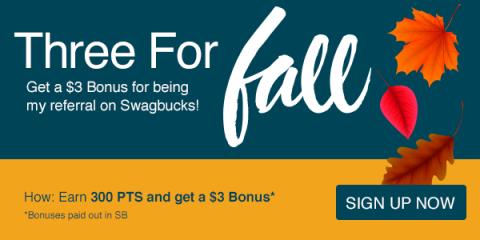 Three for Fall with Swagbucks
If you haven't tried Swagbucks before, you can get a bonus $3 for signing up during November as part of their Three for Fall promotion. Swagbucks is a rewards site where you earn points (called SB) for things you're probably doing online already, like searching, watching videos, discovering deals, and taking surveys. Then you take those points and exchange them for gift cards to places like Amazon, Starbucks, Walmart, Target, or PayPal cash.
When you sign up through me this month, you can earn a $3 bonus! Here's how:
2. Earn 300 SB total before 12/1/17. You'll get a $3 (300 SB) bonus for it!
3. If you want even more bonuses, you'll get a $10 (1000 SB rebate) bonus for making your first shop purchase! That's in addition to the SB you earn for every dollar you spend.
That's it. It's super easy, and Swagbucks is for real. I use it myself, and I've earned so much over the years. I've told you all time and time again how my husband and I BOTH earn at least $25 Amazon a month. Quite often it's more than that. All we do is reach our daily goal to get that too. Its fairly easy but sometimes can take some pick and finding but it's totally doable and worth it!
And as I said if you ever need help I'd be more than happy to point you in the right direction.