I earned Swagbucks for posting about this promotion. If you join Swagbucks with any of the links provided below, you'll become my referral and I'll earn while you earn.
If ya'll have been around my blog for any length of time you know I post about Swagbucks. And yes I do get points for doing so, but I would never keep posting and promoting something if it didn't actually work. Swagbucks is one that does work and now they have a daily game called Swag IQ where you can earn points on certain questions and have the chance for some big money if you make it all the way through the end of the ten questions. So why not read below about Spring bonuses with Swagbucks in May and then join, here.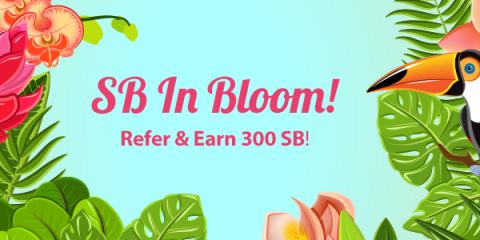 Spring Bonuses with Swagbucks in May
All throughout May, you can earn large bonuses when signing up as my referral on Swagbucks. Swagbucks is a rewards site where you earn points (called SB) for things you're probably doing online already, like searching, watching videos, discovering deals, and taking surveys. Then you take those points and exchange them for gift cards to places like Amazon, Starbucks, or PayPal cash.
When you sign up through me this month, you can earn a 300 SB bonus! Here's how:
2. Earn 300 SB total before June 1st, 2018. You'll get a 300 SB bonus for it!
3. That's it. It's super easy, and Swagbucks is for real. I use it myself, and I've earned many Amazon gift cards & PayPal throughout my many years of using Swagbucks. It's a fairly easy thing to do on a daily basis. My husband and I both just get usually our first goal of the day and that is it. Usually by trying a few surveys and the rest by watching videos. We earn at least $25 Amazon a month each, quite often more. It just all depends on what we can earn in a day with ease.
So go ahead and try the spring bonuses in May with Swagbucks. If you ever need help earning, just ask me and I'll be more than happy to try and help you out!