This post is sponsored by Best Buy & LG. However, all thoughts are 100% my own.
Our house is older and everything needs to be updated or redone. Do I want to live anywhere else? Nope, sure don't! I have so many dreams and ideas of what I'd like to do if/when we have the money and time to do so. One of those is my dream kitchen planning. Our kitchen needs to be redesigned a bit to get the space we'd want. Someday maybe. Until then, let's talk about the new and beautiful kitchen products I happen upon along the way and dream how it would work in our kitchen. Let's do the dream kitchen planning together!
Announcing the Perfect Addition For Your Dream Kitchen Planning
I often wonder why I would need my appliances to be smart ones. How would I use it? Why would I use it? I bet though once I had them I'd figure out all sort of uses for them and wonder how I did things without them. Isn't that the way most newer technology goes?
With these LG Matte Black kitchen appliances, they are wi-fi and also voice-enabled. All that allowing you to control your appliances without being in front of them. Giving you the option to change the settings, check the status, and even turning on and off.
I could imagine how handy the feature of being able to check the status of your cooking item would be. How many times have all of us wondered how much time was left on the oven and the only way to check it was to walk in there and look. So handy!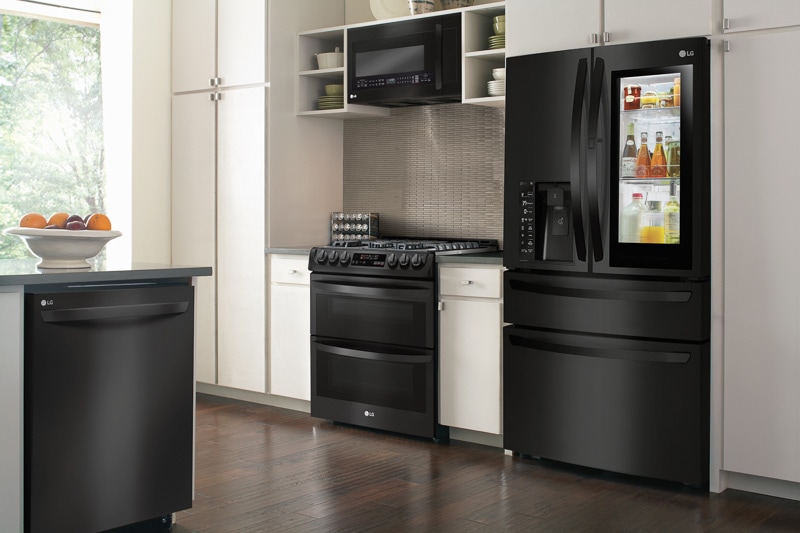 Let's talk about this new black matte design. A great way to give you that stainless steel look but with the luxe & low-gloss matte. With reading about that new look design, I imagine as well it will be more simple to clean as well.
And here is the real good news on this LG Matte black kitchen appliances. You can get an amazing deal when buying them at Best Buy right now. Save up to $350 on LG appliances, including these pretty matte black ones.
Great deal right? Hopefully, you'll be able to take advantage of it right now even though I can't! Even if you can't afford this right now, dream along with me and do some dream kitchen planning. Could you see these beauties in your dream kitchen planning? I'd love to hear all about it.