Links used below are from Amazon and while I am an Amazon Associate, buying through the links below may provide the blog a kick-back for you doing so, at no extra charge to you.
Books are one of my passions. I love reading. But as a blogger, I completely stink at doing actual full book reviews. Rarely will you find them posted on the blog. There is one gal I do them for and those are few and far in between. Because I do love reading and do it often, as you see on Instagram, I thought a fun way to bring my love of books to the blog.
Each month, I'll be sharing with you all the books I have read the previous month. Giving you the stars I gave them along with a description from Amazon and linking to the book to buy on Amazon if you so choose. So look forward to each month to the books I read and a little of what I thought of them.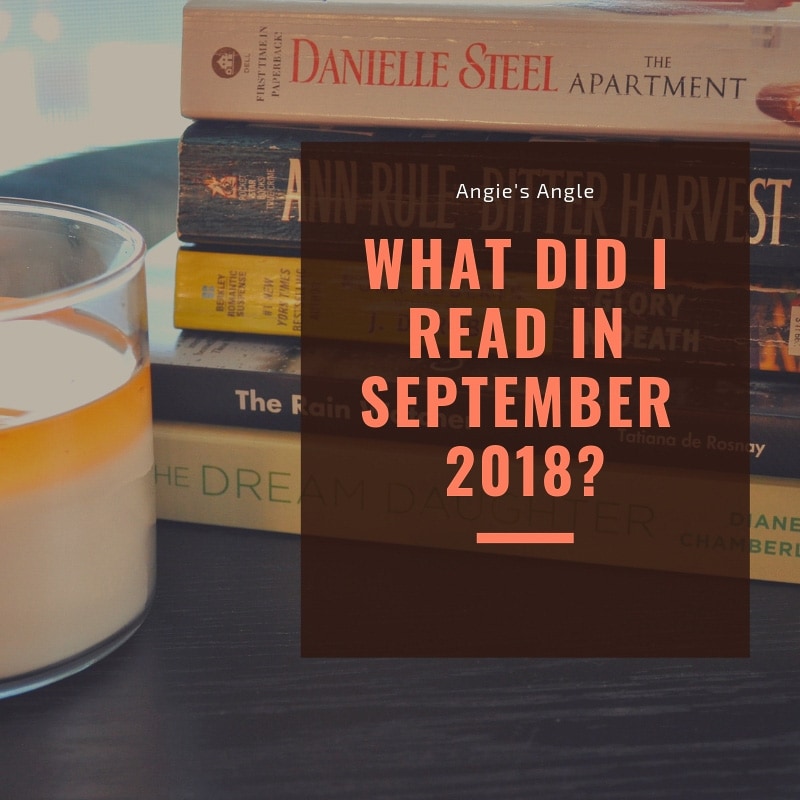 Read in September 2018
Being so late on getting this read in September 2018 up and I am not even sure why. I have had this post started for quite some time but lacked sitting down and finishing it.
Looking back at the books read in September though, I was a reading machine. And comparing what I have read so far in October, you can tell I started back into blog work on a more regular basis. You'll see when I post it next month, so much less. Don't get me wrong though, I am still reading like crazy and any chance I can get but my mind is without a doubt back into my work more.
Now let's take a look at the books I read in September 2018 and hopefully there will be a few that you'll want to pick up too!
5 out of 5 stars
I received this copy as an advanced one from She Speaks & St. Martins Press. And I quickly devoured it. It was hands down one of the best books I've read this year. Flying through the book and not wanting to ever put it down. Those are the signs of an excellent book. Partly romance, and part sci-fi.
When Carly Sears, a young woman widowed by the Vietnam war, receives the news that her unborn baby girl has a heart defect, she is devastated. It is 1970, and she is told that nothing can be done to help her child. But her brother-in-law, a physicist with a mysterious past, tells her that perhaps there is a way to save her baby. What he suggests is something that will shatter every preconceived notion that Carly has. Something that will require a kind of strength and courage she never knew existed. Something that will mean an unimaginable leap of faith on Carly's part.
And all for the love of her unborn child.
4 out of 5 stars
An interesting read. I love Ann Rule and this book was no exception. Couldn't imagine what was going through this ladies mind as she did all these mind games and then fires. Just wow.
In this harrowing New York Times bestseller, Ann Rule is at her masterful best as she winnows horrific truths from the ashes of what seemed like paradise in Prairie Village, Kansas. Rule probes the case of Debora Green, a doctor and a loving mother who seemed to epitomize the dreams of the American heartland. A small-town girl with a genius IQ, she achieved an enviable life: her own medical practice, a handsome physician husband, three perfect children, and an opulent home in an exclusive Kansas City suburb. But when a raging fire destroyed that home and took two lives, the trail of clues led investigators to a stunning conclusion. Piece by piece, Ann Rule digs beneath this placid Midwestern facade to unveil a disturbing portrait of strangely troubled marriages, infidelity, desperation, suicide, and escalating acts of revenge that forever changed dozens of lives.
4 out of 5 stars
What an excellent book and so different than the patterns of a normal Danielle Steel book. It started off a bit rocky for me and I didn't think I was going to like it. Thankful I kept going because I was quickly wrapped up in these four girls lives and couldn't wait to see where it all led.
They come together by chance in the heart of New York City, four young women at turning points in their lives. Claire Kelly finds the walk-up apartment—a spacious loft in Hell's Kitchen. But the aspiring shoe designer needs at least one roommate to manage it. She meets Abby Williams, a writer trying to make it on her own, far away from her successful family in L.A. Four years later, Morgan Shelby joins them. She's ambitious, with a serious finance job on Wall Street. Then Sasha Hartman, a medical student whose identical twin sister is a headline-grabbing supermodel. And so the sprawling space, with its exposed brick and rich natural light, becomes a home to friends about to embark on new, exhilarating adventures.
3 out of 5 stars
Having a feeling what actually was happening almost from the start but wondering how it was connected. That was my initial thoughts. A good read.
Greta Kavanagh has an exciting career as an interior designer for some of the most spectacular plantations in Louisiana. Her husband, Jax, owns an established psychiatry practice. Happily married and successful, you could say they have a bright future ahead of them. Of course, some things aren't always as they appear. Jax has a patient, Evangeline, who is obsessed with him. She can't decide whether she wants to love him, kill him, or destroy his life.
Evangeline has a tumultuous personality. She is unpredictable and only has one thing on her mind, abolishing anything that threatens her happiness. As Jax's patient, she does more than confide in him, she falls under his spell, and they have secrets they'll do anything to protect.
Is there more than meets the eye between doctor and patient? Is Jax living a lie?
3 out of 5 stars
Odd. Weird. Those are the two words that come to mind for this book. It was a decent read but just odd. I won this from a Goodreads giveaway, it comes out October 30th.
Linden Malegarde has come home to Paris from the United States. It has been years since the whole family was all together. Now the Malegarde family is gathering for Paul, Linden's father's 70th birthday.
Each member of the Malegarde family is on edge, holding their breath, afraid one wrong move will shatter their delicate harmony. Paul, the quiet patriarch, an internationally-renowned arborist obsessed with his trees and little else, has always had an uneasy relationship with his son. Lauren, his American wife, is determined that the weekend celebration will be a success. Tilia, Linden's blunt older sister, projects an air of false fulfillment. And Linden himself, the youngest, uncomfortable in his own skin, never quite at home no matter where he lives—an American in France and a Frenchman in the U.S.—still fears that, despite his hard-won success as a celebrated photographer, he will always be a disappointment to his parents.
Their hidden fears and secrets slowly unravel as the City of Light undergoes a stunning natural disaster, and the Seine bursts its banks and floods the city. All members of the family will have to fight to keep their unity against tragic circumstances. In this profound and intense novel of love and redemption, de Rosnay demonstrates all of her writer's skills both as an incredible storyteller but also as a soul seeker.
4 out of 5 stars
I have so been enjoying this series. Being not normally huge on "future" type of books, I am completely in love with them and am excited that I have already collected so many of the series before I started reading them.
The first victim was found lying on a sidewalk in the rain. The second was murdered in her own apartment building. Police Lieutenant Eve Dallas had no problem finding connections between the two crimes. Both victims were beautiful and highly successful women. Their glamorous lives and loves were the talk of the city. And their intimate relations with men of great power and wealth provided Eve with a long list of suspects—including her own lover, Roarke. As a woman, Eve was compelled to trust the man who shared her bed. But as a cop, it was her job to follow every lead…to investigate every scandalous rumor…to explore every secret passion, no matter how dark. Or how dangerous.
In case you want to check out August, June & July, April, March, February, and January reads.