Downtown Vancouver, Washington is exploding and I love it. When you live in walking distance of downtown, it's amazing to have so many places you can visit and explore. The growth of downtown or uptown, whatever they are calling it these days, I think has only happened in the last few years.
Having actually won a gift card from Visit Vancouver a couple years ago from Dine the Couve we had plans to visit this cute little Italian restaurant. Dine the Couve, for those that don't know, is something that happens in October and several local business put together 3 for $23 menus. We won the gift card by posting one of those meals on Instagram.
Now we had walked by La Bottega several times while having the gift card and almost went. Either though we felt underdressed, or it was busy (it often is), or whatever other reason we made up. Finally, finally, I am taking the time to spotlight La Bottega with Local Tuesday & giving you 3 of the top reasons you should visit La Bottega. Hopefully sooner than we did!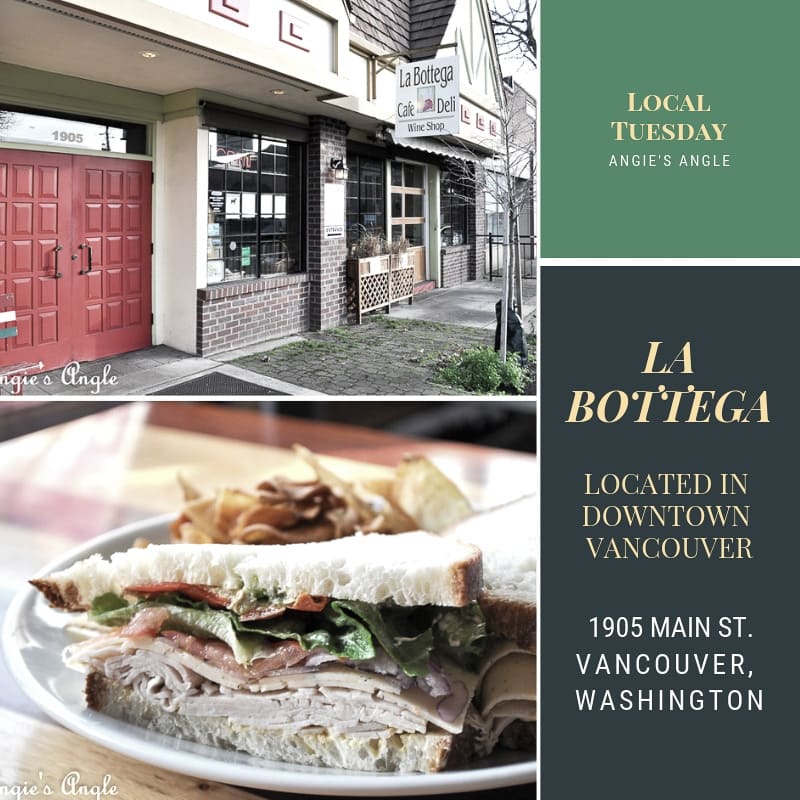 3 of the Top Reasons You Should Visit La Bottega
Now Jason and I actually ended up doing two visits in a short time frame to get all we needed for this spotlight. The first time, a Monday, we went for dinner and enjoyed it greatly. Sadly, my camera was not behaving properly and I felt a little silly taking photos with how busy it was.
The following Monday or two, we went for a late lunch and it was perfect for my picture taking. We had lunch and once again it was amazing and it wasn't busy at all so I was able to get the rest of the photos I wanted. I am thrilled to be showing you the 3 top reasons you should visit La Bottega. Remember though, these are only 3 of many.
Cozy
It is a smaller space but they use it so well. One side is filled with tables while the other side is their kitchen, counter, and bakery area. Between the tables & kitchen/counter area is a little bit of a grocery area where you can buy various Italian foods. At the back is a big corner of all their wines to choose from.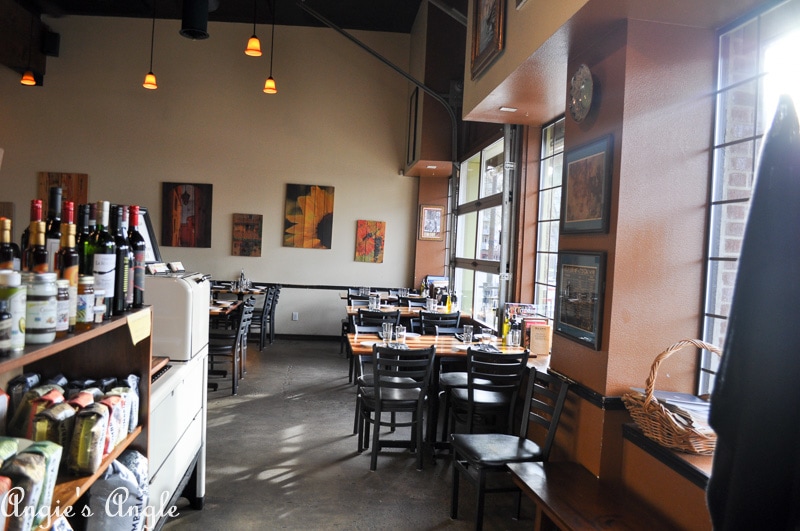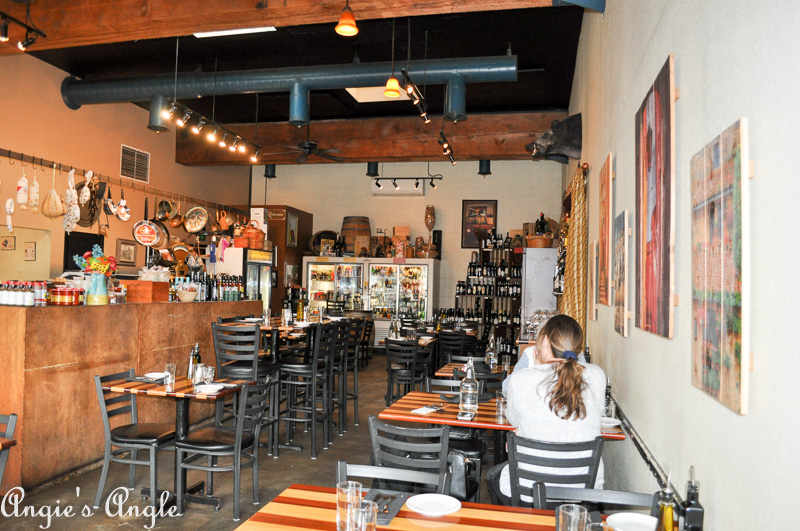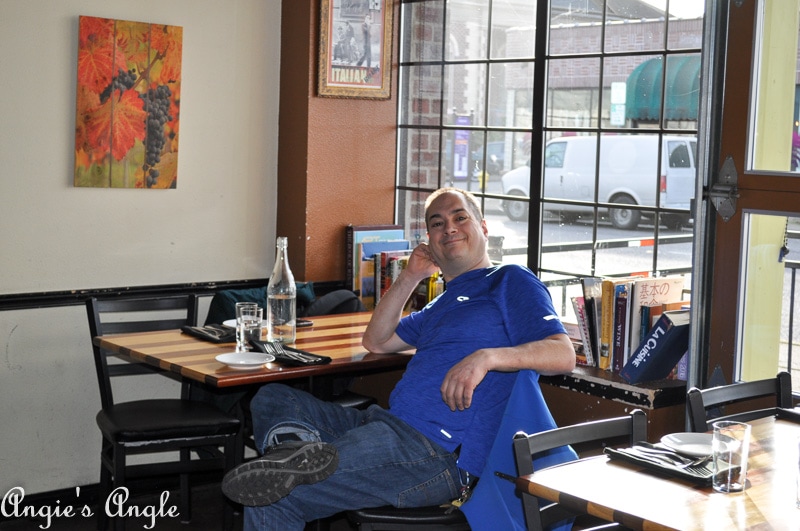 Even while busy, the tables make you feel like you are in your own little world. I think the spacing between the tables is perfectly placed to not feel overly crowded. Hence the cozy feel.
Wine Selection
Let me tell you a tiny bit about their wine selection, it's massive. Now, personally, I am not a wine drinker. It doesn't mean every so often I'll have a glass of wine, but it's not usually something I'll choose myself.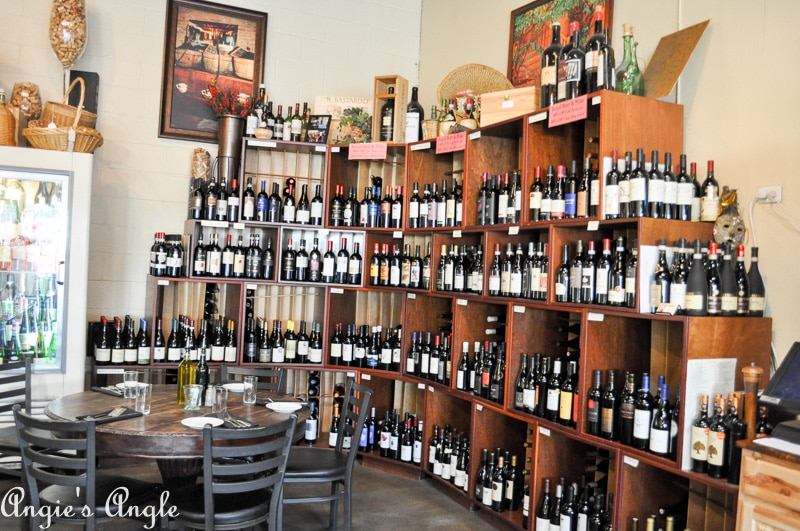 I can bet if you like a certain wine, they have it. Or even if they don't have the exact one you are craving, they'll have something that will fit your taste buds.
And they are designing up plans for a new wine cellar too. Hello, wines!
Food
Last, but in no way least, is the amazing food. As I mentioned we went for dinner and lunch on seperate Mondays. Both were simply amazing. Wholesome, fresh meals that will make your tummy happy.
As an appetizer we shared the Veal Carpaccio. Which was so good but hard to eat.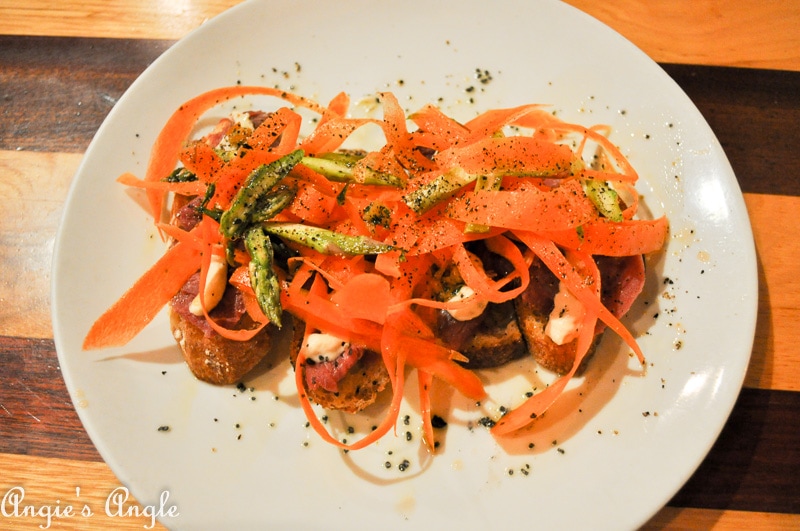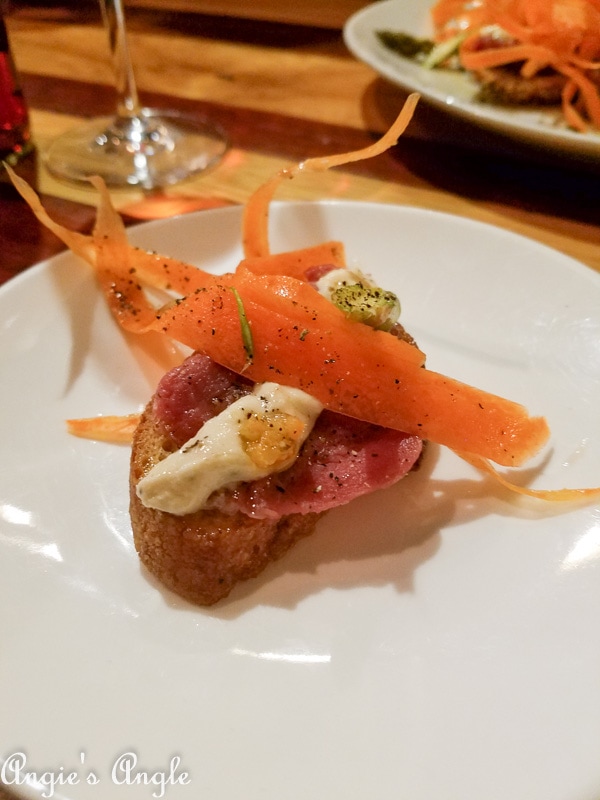 For dinner, I had the fettuccine carbonara. While Jason had the spaghetti marinara with meatballs added. Both which were excellent and such simple dishes but yet made with such care and love. Tasty to the last drop.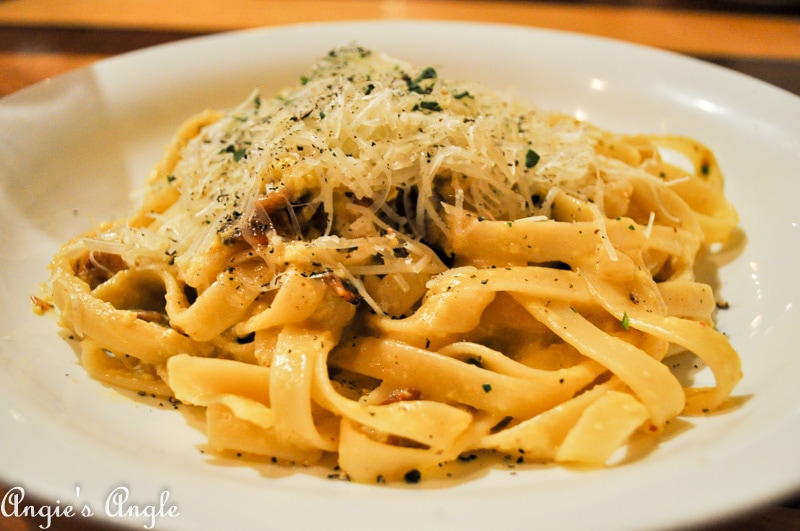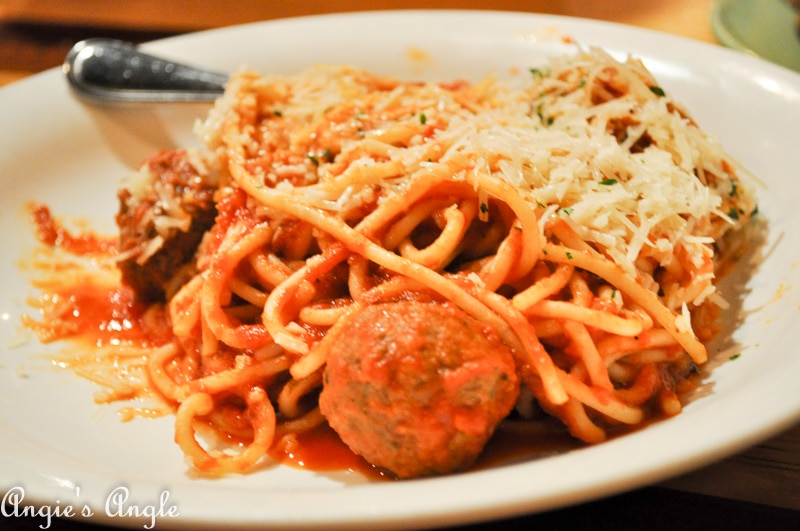 We also ended up having a dessert each, we normally share but couldn't fully agree this time. I had the cannoli and Jason had the eggnog cheesecake. My cannoli was okay, probably not my favorite thing but I don't know that I have ever had a cannoli before. Jason though was in heaven with his eggnog cheesecake. He has quite the love for cheesecake and eggnog so together, amazing things happened to his taste buds.
Everything was just perfection.
Walking down for lunch, we originally thought we were just going to share a sandwich and get the rest of my photos.
Well think again, the sandwiches sounded so tasty that we each ordered our own and I am really glad we did. For one main reason, which I'll tell you in a tiny bit later.
Before we arrived, I was thinking I would do a build your own sandwich, but once we arrived I couldn't figure out what I wanted to put together. Jason pointed out that I would probably like the Giuseppe ( Prosciutto Salami, Fresh Mozzarella, Roasted Garlic, Mayo, Lettuce, Tomato, Basil, Vinaigrette, Ciabatta ). Ended up ordering that and quite enjoyed it indeed. It kept falling apart on me though. So in the end, I just used the loose lettuce and other things that fell to make that as a sandwich for the rest.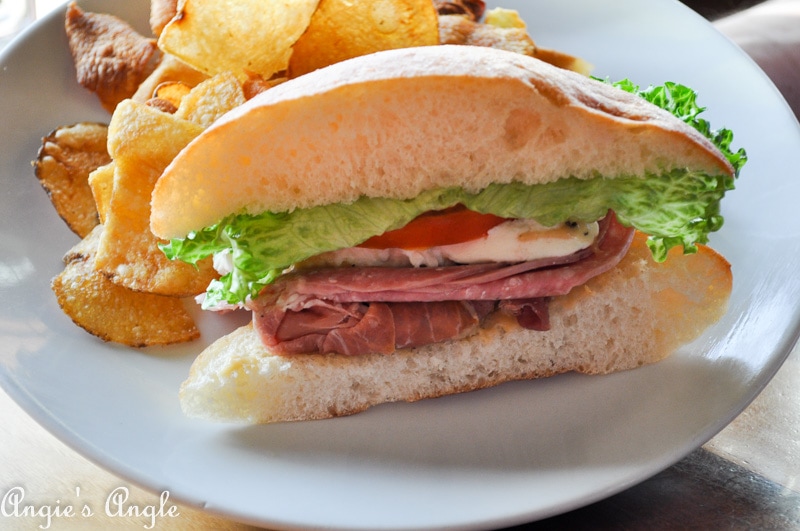 Jason ordered some kind of build your own sandwich that looked tasty too. He agreed that it was quite good. Ordering a full because he planned to use the rest for lunch the next day. He almost didn't quite get there to save it because once he started eating it he almost couldn't stop.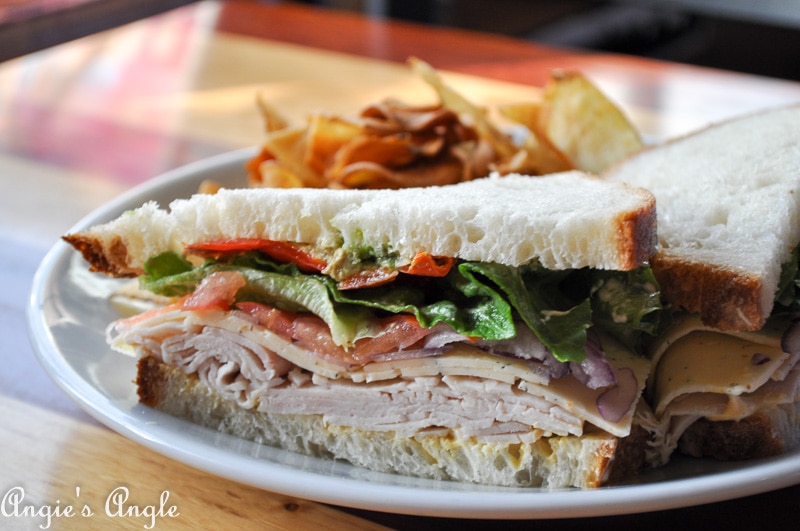 Let's talk a bit though about what was served with these sandwiches because yes they were my favorite thing. These chips were FANTASTIC. Hands down my favorite homemade (yes homemade) chips I have ever tasted. We couldn't quite figure out why they tasted so amazing. Finally asking our waiter and he said they make them each morning with a bit of regular potato and a bit of sweet potato. Dang, they were good. I just wanted to keep eating those.
We also splurged again and had a dessert. This time sharing the torta Nutella. This was what we were tempted to order for our dinner last time until we opted for our separate desserts. Torta Nutella was great though and glad we shared because it was thick on chocolate (well duh) and I can only do a bit of that at a time. So good though.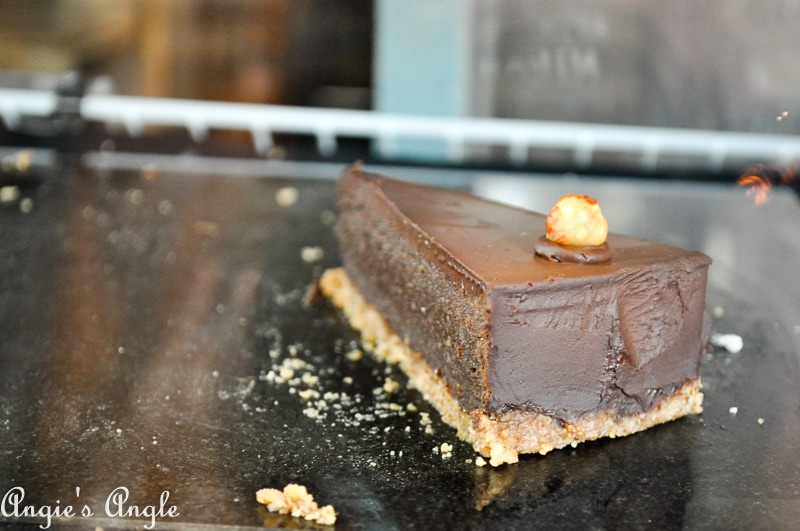 Visit La Bottega in Vancouver, WA
As you can tell our trips to La Bottega were the greatest. Giving you the 3 top reasons you should visit La Bottega, very soon!
La Bottega
1905 Main St.
Vancouver, Washington 98660
360-571-5010
Monday – Thursday: 11 am to 9 pm
Friday – Saturday: 11 am to 9:30 pm
Sunday: 4 pm to 9 pm