I tend to ogle over new appliances. It'll be a while before we can buy a brand new set for our kitchen. Yet each time we are somewhere with them; I stroll through the appliances and pat them and squee over it does this or that. So the question is, what do you want when it's time to replace your dishwasher?
This is a sponsored post with Best Buy. However, all thoughts are 100% my own.
When I run across new things to share on the blog, I am all for it. You may learn all about a new item and have to have it. I think this often but restrain myself. Today I am going to make you swoon over the Bosch 800 Series dishwasher with Crystal Dry! Well, if anything I am going to be swooning more, just keep reading.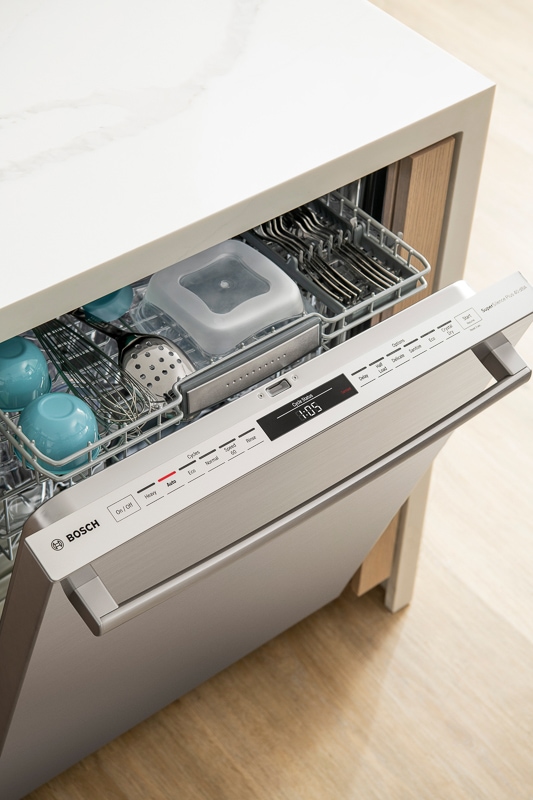 When It's Time to Replace Your Dishwasher
Admittedly most of us don't go out and buy new dishwashers on a whim. One either we are redoing and updating the kitchen and want new appliances. Or two, the direst one, is that your current dishwasher breaks down and you have to get one.
As I stated in the beginning though, that doesn't stop me from browsing and wishing.
This Bosch 800 Series Crystal Dry dishwasher grabbed my attention and I am going to let you know why. What features I'm excited about.
Quiet – runs at just 42 dBA, which I know nothing about those levels but I know it's quiet. Incorporates 18 unique sound-reducing technologies such as multiple insulation layers, gridless food filtration, and a sound-absorbing base. Now you can run your dishwasher at any time without concern of the noise it'll make. Yay!
3rd Rack – you know those tall or long weird pieces? Now there is a spot for them. This 3rd rack even adjusts to fit whatever you are needing to wash.
RackMatic® – being able to fit it all no matter what is amazing. Each rack has 3 different height levels and 9 possible rack positions. Yes! Can you imagine the amazingness this could achieve? Just picture it a minute and let it absorb.
Sanitize Option – that reduces bacteria by 99.9%.
Patented CrystalDry™ technology delivers 60% better drying results.*
Doesn't this new Bosch 800 Crystal Dry series dishwasher sound just amazing? Don't you want your current dishwasher to stop working so you can head out and get this beauty?
What sounds the best to you on this machine with what I've told you? For me, I think I love the adjustable racks.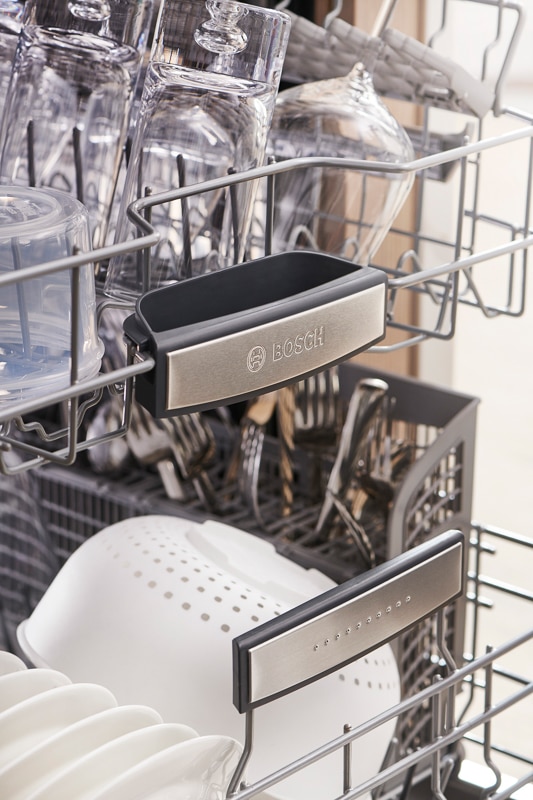 *Based on aggregate average drying performance of Bosch Dishwashers with CrystalDry on combined household load including plastics, glass, steel, and porcelain as compared to Bosch Dishwashers with PureDry. Drying performance may vary by dish type.