Turkey, the neighbor dog, is over to our house quite a bit. You'll see him on the blog and my social media channels often. Roxy came up with the idea that maybe it was time we told you all a bit about Turkey since you see him so much. Today it's all about confessions from Roxy about Turkey.
Yep, that is right. Roxy is getting her paws to the keyboard and telling you all about our big Turkey. And a Turkey he is, by the way.
Get settled in, my friends, for a Roxy takeover.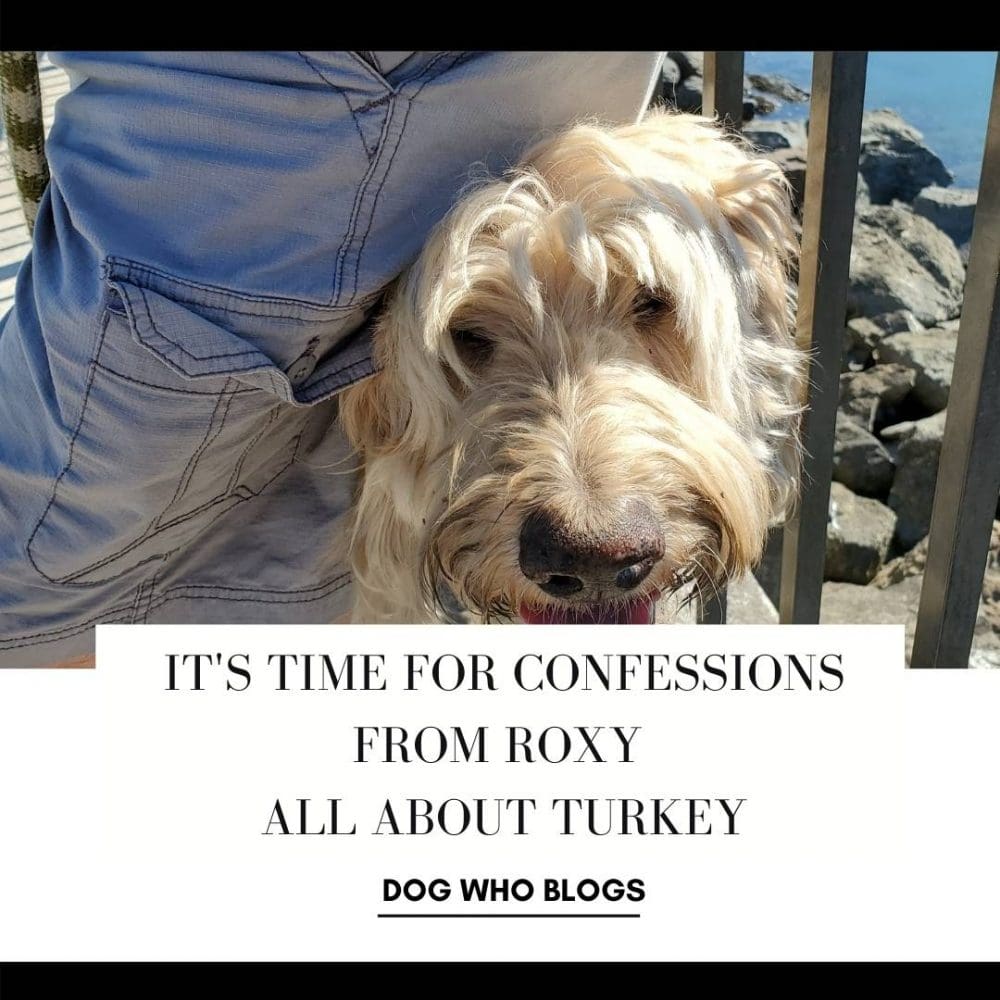 It's Time for Confessions from Roxy All About Turkey
Hi guys – Roxy here! Ready to share with you all about Turkey.
I, personally, have a love-hate relationship with that Turkey dog. Mom likes to say I am the "little," and he is the "big." We look so similar minus our sizes, so it's funny to Mom & Dad that Turkey moved next door a few years back. I just like that he listens to me when I talk.
Now he may listen to me, but then he comes over here and thinks he owns the place. I can't have that. No. No. No. This is my home, and he will do as I say and only go where I tell him it's okay to go.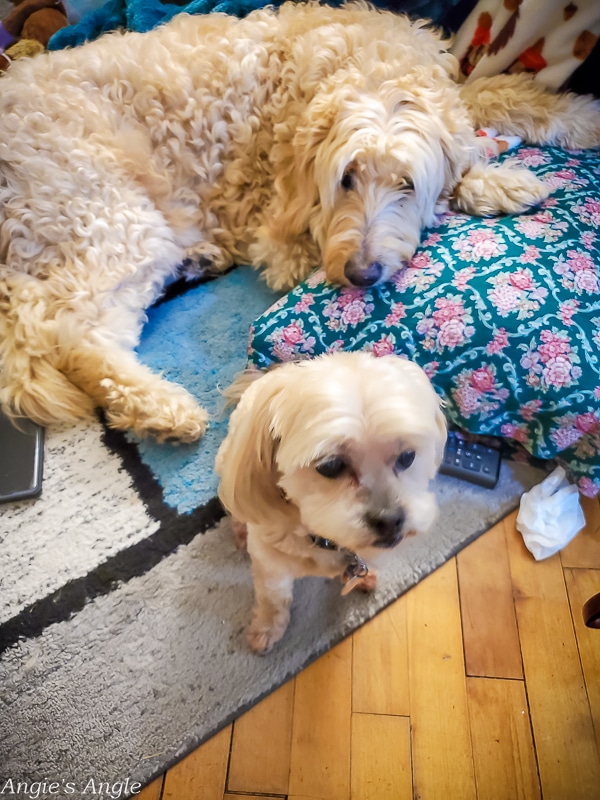 Turkey's Age
Turkey is a year younger than me. He is a whole 12 1/2 years old (and remember I am a ripe 13 1/2). Turkey's paw parents got him when he was just a little one as a birthday gift to his Momma. They've been a family since that particular day. Then came along another little human a few years later, and they named her Jo. Jo and Turkey are the best of friends, and Turkey has to watch out for Jo.
A Doodle
Turkey and I are so similar looking because we both have poodles in us. He is a Golden Retriever with a Poodle and I am a Shih Tzu with a Poodle. It just happens that we are both the same color and curl type. We blend in well together, as you can see in the photo below. Can you spot both of us? I made Turkey share the backseat on the way home, and Turkey only could say okay. That is right, buddy, it's my family first, you listen to me.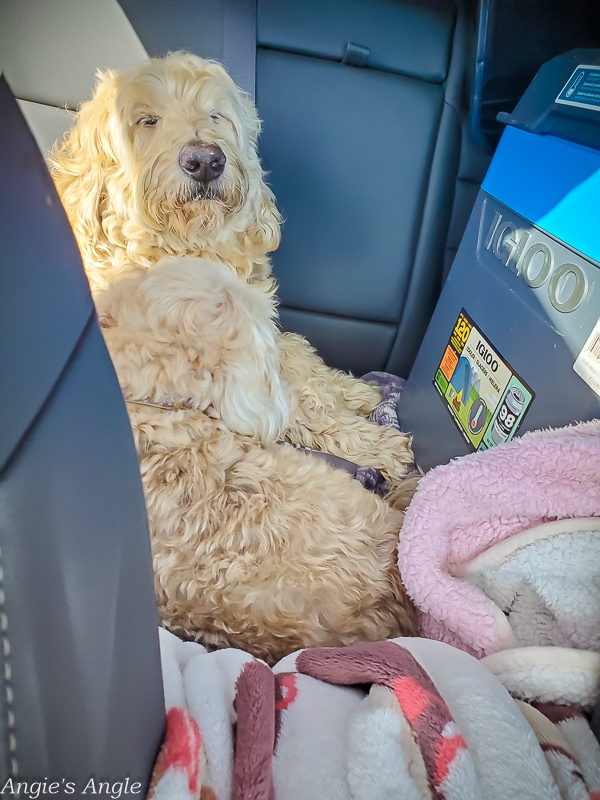 Mom says she loves it when we almost bump noses, it's such a cute sight, she says, but I am like whatever mom. Can you believe her?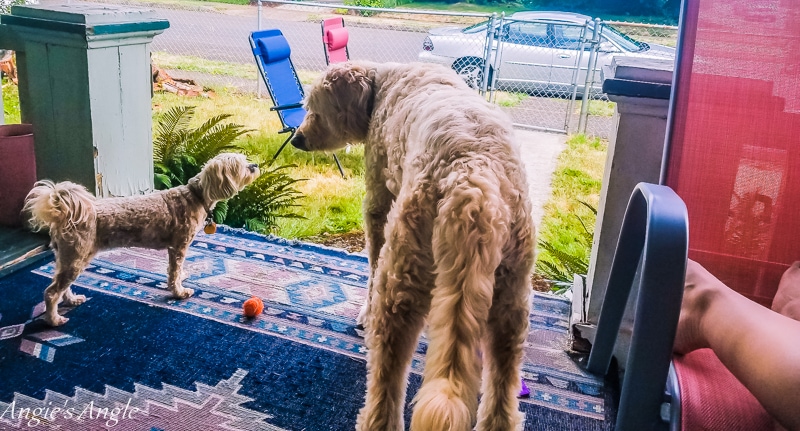 Get Along
Turkey and I get along nicely, though. He often watches out when I get underfoot and helps me bark in the yard when need be. Sometimes he huffs at me when he comes out to look to see what I am barking at, and he sees nothing. But buddy, stuff was there. It would be best if you barked because I did. Dangit!
But then the other times when he thinks he needs to cuddle or play with Mom & Dad, I shove my way in because he shouldn't be taking over my paw parents. Nope, he shouldn't be. Then Mom and Dad say no, Roxy, he is fine; you need to share. And I huff and puff and go pout.
Then sometimes Dad plays with us both simultaneously, and I have to say that it turns out okay. Still, I'm not too fond of it, but I let it happen.
Turkey is a good boy.
I have to admit, though, Turkey is a pretty good dog. He sleeps on the floor at night and doesn't try to crawl into the bed with us. And he leaves my food on the floor so I can eat with ease when I want to. Turkey lets me run and chase my toys and balls without trying to get them.
I guess I'll have to admit again, that having Turkey over isn't all that bad. After all, I get help barking and get someone to chase in the yard. Those are pretty great things by themselves.
Second Home
Mom keeps telling me that this is Turkey's second home, and I need to make him feel welcome. She said he should feel just as comfortable with us as he does at home with his regular paw parents. And okay, I guess that sounds right, but I don't always have to like it.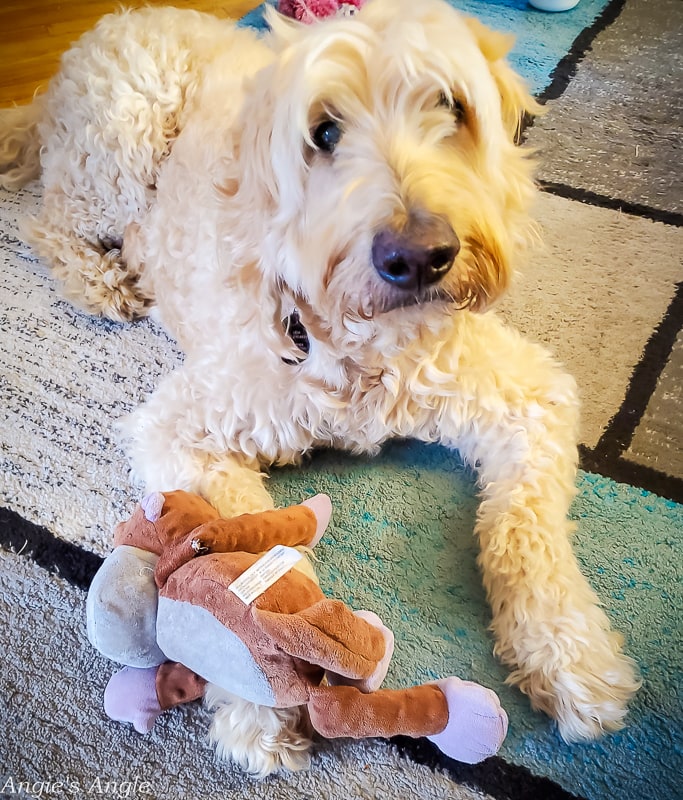 Questions
Do you have any questions about Turkey? About Turkey and Roxy's relationship? We'd love to help answer them.