When we started doing things over in Idaho, our first project was the master suite room. Getting us off the air mattress in the living room was a priority. I never imagined it would come together, and I would love it as I do. There are still things we want and need to do as well. I will show why I love the Idaho Deer Haven master suite room. Plus, stating what else we need to do to improve the room.
The post below may contain affiliate links. If you purchase anything through the provided link, I may receive a small kickback at no extra charge.
Happily, I already had a good idea of what colors/themes I wanted to go with the master suite (and the other rooms), so gathering things has been relatively easy and fun. Plus huge shout out to my buy nothing group on Facebook that helped me with a big ticket item that pulled together the room.
Ready to hear/see what we've done in the room thus far?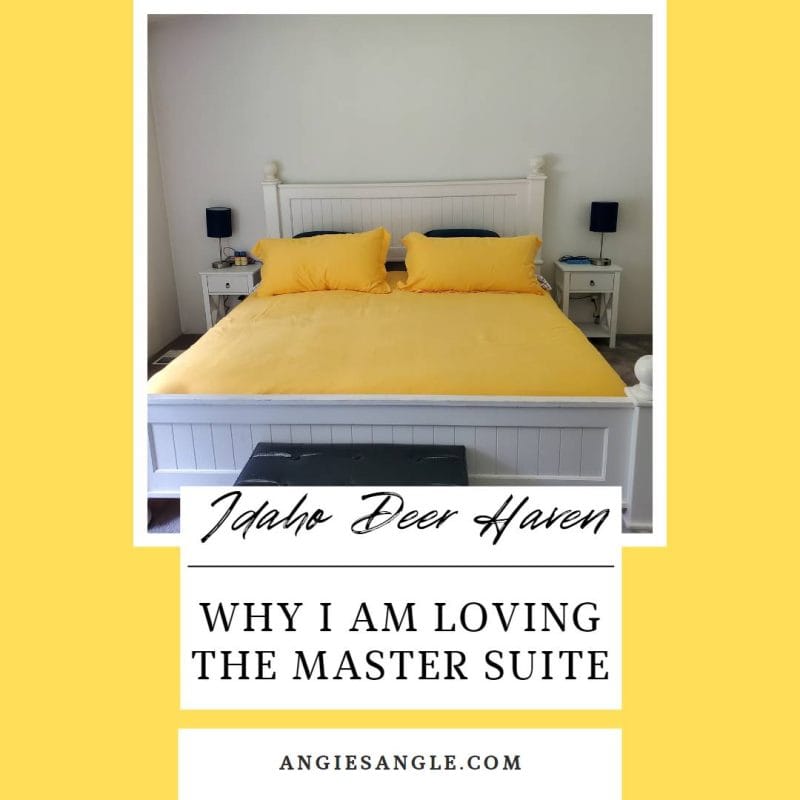 Idaho Deer Haven Master Suite Room
Happiness pops when I walk into the room, making my heart happy. Sadly though, the mattress I ended up picking out is not a favorite of mine. I will try to find a foundation for it first and see if it helps. But if not, I hope to replace the mattress down the line.
Other than that little fact, the room is so comfy. Yellow, navy blue, and white are the color splashes I will have in this room while having a bit of sunflower to decorate. I think going with the yellow and white furniture is what made the room pop with happiness. Don't you think?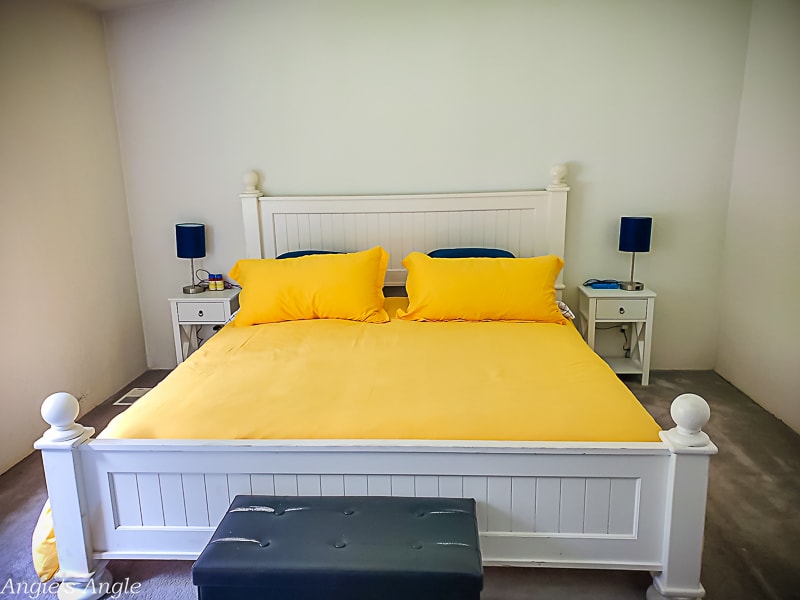 I don't have any pictures of the other side of the room just yet. I plan next time we go over to take more photos of each area to share with you all as we go and decorate and redo.
The headboard set was the main item from my buy nothing group. It popped up first, and I didn't get it. Then a couple of months later, it popped up again, and I was able to snag it. The timing couldn't have been more perfect. We got the Ford F150 to review and take over some bigger items. Just as that was happening, this landed in my lap again. This is a king set, by the way.
The side tables are perfect, and the lamps couldn't be cuter (or more functional). Both I snagged on Amazon and linked for your ease. The set of two lamps is especially nice because they are touch, with a 3-way dimmable function, and have 2 USB with an AC outlet.
Don't mind the broken top ottoman; we plan to recover it with fabric or get a new one. It still looks fairly nice in the room, I think. Do you agree?
What Needs To Be Done Still
While we have done so much in this room, there is still much to do.
Replace the carpet. While we discussed doing wood in most rooms, we think the carpet may warm the room in winter. Replacing the carpet is a must, though. While we did carpet clean it and made a world of difference, it still needs to be replaced.
Paint. The whole house still needs a new coat of paint.
Get a white dresser of some sort.
Finding a chair for here would be lovely.
Some artwork on the walls.
There is some wall work that needs to be fixed from water damage.
A hybrid fan would be a great thing to add here.
Looking the list over, that seems like the main extent of what else needs to happen in the Idaho Deer Haven Master Suite Room.
And yes, it does have an attached bath, but that area will be a post in itself and tie the room together. Again something else I need to get some full coverage photos to share.
I am excited to share our progress for the Idaho house and looking forward to seeing the updates we do to make it feel like a place people want to go. And even more thrilled to keep sharing it all with you all.
What do you think of the Idaho Deer Haven master suite this far? I'd love to hear your feedback.