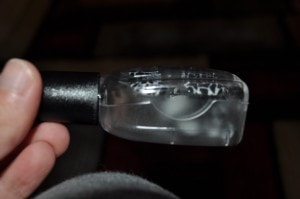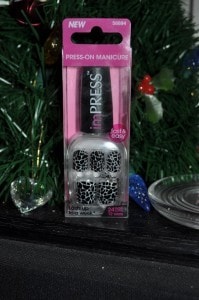 I am not a huge fan of fake nails, they tend to wreck havoc on your actual nails & just sometimes are hard to work with. So I was a little skeptical when I was getting the imPress Press-On Manicure by Broadway set of fake nails from Influenster. I was even more skeptical and dragging my feet a bit on it when I saw what design I got (space cadet). It wasn't a style I'd normally choose for myself.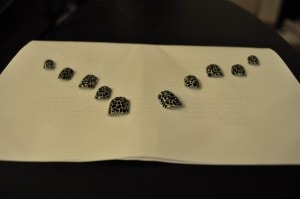 Today after my shower I decided to put them on and see what I thought and so I could get my blog review up too. I read the directions that came with them. Seemed easy enough. Wipe your nails with the prep-pad that comes in the package and then tab side facing the cuticle find the fits for each finger and layout to prep for putting them on. I did that… It said to leave the thumb for last, so I made sure the thumb was the last thing I did. Then to put on all I had to do was tear the little tab backing on each nail and then press on, putting a bit of pressure to apply. Easy. Though once I got closer to the end the little tab got slightly harder to grab with having the nails on.
Verdict? I actually really like them! They are a bit longer on me it seems then some other photos I have seen of people with them on. But I love the way they look and surprise I like the design now that its on. Still not my favorite, but it looks really cute on and will be a fun design for awhile. They are supposed to last up to a week, so we'll see how they fair. Can't wait to try some other designs though and have some fun with these. Sold in your regular store for around 5.99 to 7.99. Not bad I'd say for a week worth of pretty nails. Plus they are so easy that it takes only a few minutes to apply.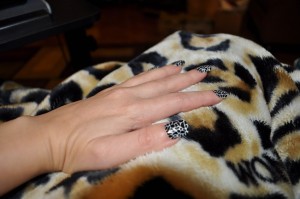 You can also go and download your very own coupon for $1 at imPress Press-On Manicure & find out where you can buy a set to try yourself!
Awhile later – While I really like this and enjoy the look they give, they don't seem to want to stay on. I had one fall off into the washer when I was changing clothes to the dryer. I had another fall off while using a Clorox wipe. While I will probably still buy these in the future, I'll most likely only use them for a special night out where I won't be doing you know normal everyday things.
Almost 10 at night now, I put them on at around 4, I only have my thumbs left. Most fell off on their own, the last two I took off cause it seemed silly they were loose anyway & were getting annoying since they were the only fingers left. My husband and I were thinking one – they might not have stayed on cause our house is cold, so the glue backing maybe wasn't warm enough as it should have been to stay on & two – maybe I didn't press down enough (like someone else said next time, they'd press down at the bottom for a bit, then the middle, and then the sides to make sure the glue attached everywhere). So even though they didn't stay on at all well, I will be trying them again cause I did very much like them & will just be trying a few different things to get them to stay on better and test it that way. Because I know other people have had it stay on as they are supposed to.