For being an active member of Influenster, I was able to receive the Holiday VoxBox filled with all sorts of goodies. They shipped out December 7th, so I was hoping and praying that it would get here before we left for our Idaho Christmas on the 16th, I stalked the mailman each day in hopes he'd bring it me before then. Sadly, he didn't and I pouted some and thought well I'll have something special to look forward to when we get our mail delivered on the 21st. On the 21st, I watched my mailman walk right past our house, I was so upset and disappointed I knew we had mail and couldn't understand why he didn't deliver it. Waited on hold with the post office for over a half hour then gave up and hanged up. I then sent out an email, cause my hold mail request said that mailman would deliver held mail on the 21st. I got a call from the manager of our local post office the next day, the 22nd, saying she didn't understand either why I hadn't received my mail – but it didn't seem to be here anymore so she assumed it was out delivery today and if not to please call her back and she'd look into it more. Happily once I got home from lunch there was all my mail including my Holiday VoxBox! I was so excited!!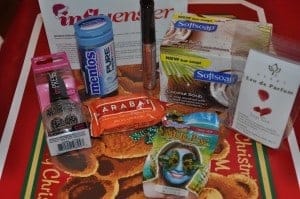 Even though, it was a little box it held such wonders!
Inside was:
ImPress Press-On Manicure by Broadway Nails – I am not a huge fan of the design I got – Space Cadet. Its just not me at all, but I'll use them and get to see if I like these and then can use the $1 coupon that I received in my VoxBox to get a design I like more. These are supposed to go on in seconds and gives you a salon-perfect manicure. Simply peel off, press on, and you're done. I'll write up a review for them once I am able to give them a try myself.
Softsoap Coconut Scrub Bar Soap – I know my husband is going to love this stuff. I am not used to using bar soaps that much anymore, but it'll be nice to try a few times. This soap gently exfoliates your skin to renew & help retain your natural skin moisture for soft, supple skin.
Montagne Jeunesse Face Mask – I have used these in the past, so knew I was going to love this. I received the mud pac version. I already tested this and loved it, will be doing a full review soon.
New York Color Liquid Lip Shine – Filled with pure pigments that create 3-D gloss effect with vitamin E. Just a hint of color that comes in 10 different shades. I received the Nude York City, and have yet to open it yet to give it a try!
Mentos Pure Fresh Gum – a wonderful type of gum that is like a mint as well. Outside has a nice crunchy shell that has an inner green tea core that gives you an immediate burst of coolness for long-lasting fresh breath. Yum!
Larabar – a wholesome little bar with only 2 to 9 ingredients depending on the flavor. It comes in 19 delicious flavors. I received the Cashew Cookie.
Garden Botanika Heart Fragrance – I was also lucky enough to get a sample of this. It was one of the bonus gifts that were given out to select people & this is the one I received. I have yet to really smell it or try it, but I have heard others really like it.
There is my Holiday VoxBox from
Influenster
. I am excited to come back and tell you all about them once I start testing them out. Join
Influenster
and get qualifying for VoxBox to test and you will not be disappointed with the boxes at all. This is my second and I am looking forward to many more.