As most of you have heard me say, I try and make our Monday dinner's meatless. While also throwing in another day of the week if I can. These little Greek Pizza's fit in perfectly for Meatless Monday and were healthy to boot.

They were tasty little pizzas but were lacking something that Jason and I just couldn't put our finger on, but they were good and filled our tummies. I found this recipe out of my Taste of Home Comfort Food Diet Cookbook from 2011.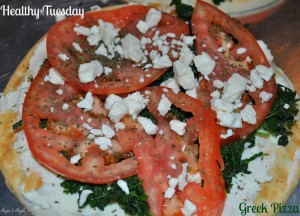 Greek Pizzas
1 cup reduced-fat ricotta cheese
1/2 teaspoon garlic powder
1 package (10 ounces) frozen chopped spinach, thawed and squeezed dry
3 medium tomatoes, sliced
Place pita bread on a baking sheet. Combine the ricotta cheese and garlic powder; spread over pitas. Top with spinach, tomatoes, feta cheese and basil.

Bake at 400º for 12-15 minutes or until bread is lightly browned.
Nutrition Facts: 1 pizza equals 320 calories, 7 g fat (4 g saturated fat), 26 mg cholesterol, 642 mg sodium, 46 g carbohydrate, 6 g fiber, 17 g protein. Diabetic Exchanges: 2 starch, 2 vegetable, 1 lean meat, 1 fat.