It has came the time to share my final thoughts and result pictures of using the 4-part System Hinoki for thinning hair. If you recall, I have done two other posts about my progress – Start and Mid-Point check-ins. The last post several of you pointed how the difference I too saw in my first photo and the photo then. I was thrilled when I actually put them side-by-side and realized there was quite a bit of big difference in the look of my hair.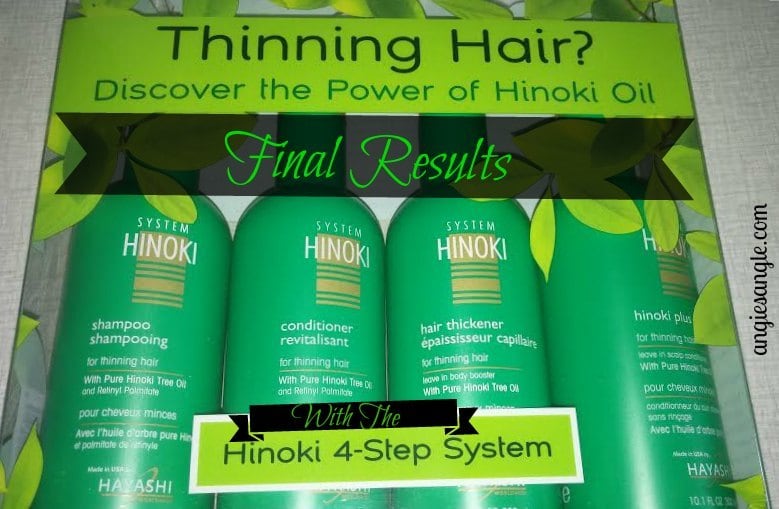 About System Hinoki
System Hinoki is a 4-part system that is made right here in the USA, by Hayashi Worldwide, consisting of a shampoo, conditioner, leave in scalp conditioner, and leave in body booster. The products are meant to be used together regularly to provide cleaning power, healing, and nutrition to both the hair and scalp.
Any type of hair can use this line and it helps thinning hair, slow-to-grow hair, hair loss, or even dandruff. Men and woman both have seen results with this line and I bet the line will only grow from here on out.
What is Hinoki exactly?
The key ingredient in the System Hinoki products is Pure Hinoki Oil, or "Chamaecyparis Obtusa Oil." This is a unique ingredient, known for its natural antifungal and antibacterial qualities, is not found in many haircare products today, however it has been used for over 2,000 years in Japan and other parts of Asia to treat different types of skin ailments. The shampoo and conditioner also include Retinyl Palmitate, a form of Vitamin A and one of the primary antioxidants found naturally in the skin; it is FDA approved and used to stimulate cell renewal and enhance skin elasticity. Unlike many other products marketed to hair growth, System Hinoki is drug free so safe to use for long-term results!
When the products are used together the results are more hair strength, volume, scalp health which makes your hair weight-free, improved hair texture, and a clean scalp that promotes healthy hair growth.
How to use: Shampoo and Condition like you normally would in the shower with the products. After shampooing and conditioning hair apply the Hinoki Plus. This should be applied to damp hair, directly on the scalp, by separating hair with fingers or a comb and spraying directly onto the scalp, then repeating until adequate coverage is achieved. Then, use your fingertips (never fingernails!) to massage the product further into the scalp. Finally, while hair is still damp, apply the Hair Thickener. Apply it by squirting a generous amount into the palm of your hand, then rubbing your hands together and apply to hair from root to ends, working it in for full coverage of the lengths of your hair. Afterwards, style as you normally would.
My Thoughts and Results with System Hinoki
While I still have piles of hair around me after flat ironing my hair, I have noticed a huge difference on how my hair feels. I notice a lot more volume after straightening my hair and that my hair has grown quite a bit just in the few weeks that I took the mid-point picture. I firmly believe that System Hinoki has something to do with that.
I had fairly healthy hair to begin with, but I think you can tell there is much more shine and health in my hair than when I started out my journey.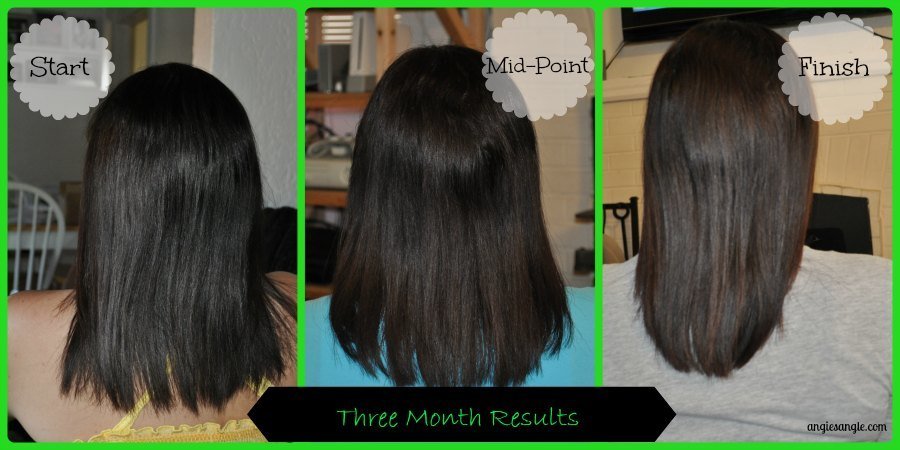 As I said I really wish I had taken a picture in a pony tail as I saw others did because I think that helps show a difference more then what I did. But I know you can see a difference in my pictures, which I think says something in itself.
Are you suffering with thinning hair? Will you check out System Hinoki?