There is nothing quite like a nice warm soup on a cold weather day. Something about it brings comfort while also warming us inside and out. There is no reason that a soup shouldn't be healthy as well as filling and tasty. Was pretty excited when we tried this soup the other week and really liked it. We loved that it had a kick because of the lime that you just really aren't used to in soups.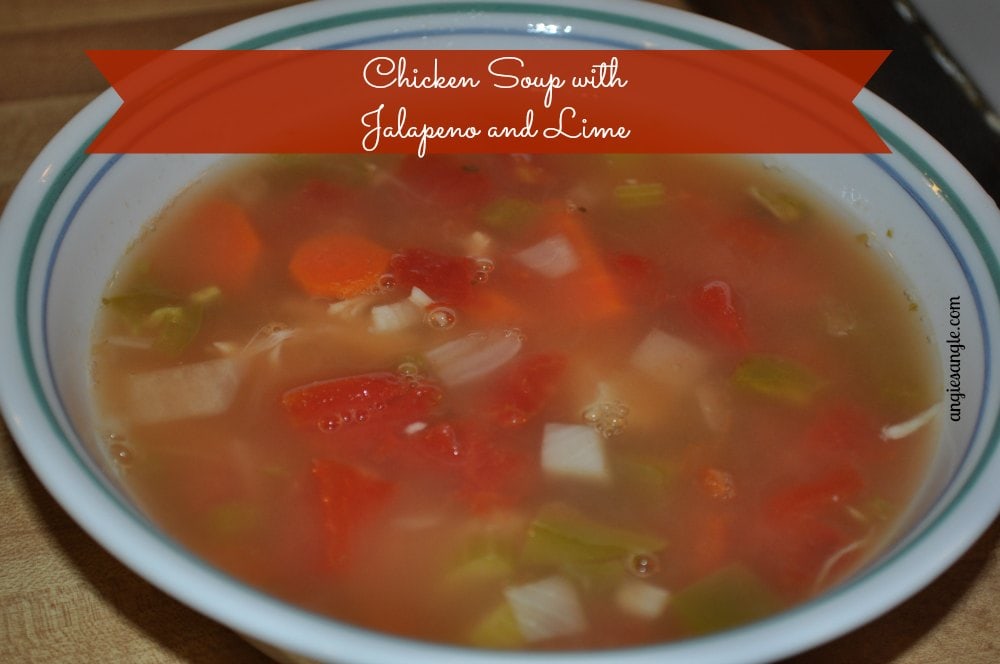 This Chicken Soup with Jalapeno and Lime was found in the Everything Dash Diet Cookbook, so you know it's a heart healthy happy recipe.
It's a rather simple and quick recipe as well, which I am finding is quite the normal with soups as we have been trying them out. I always though that soups took all day to prep and cook, but not so at all.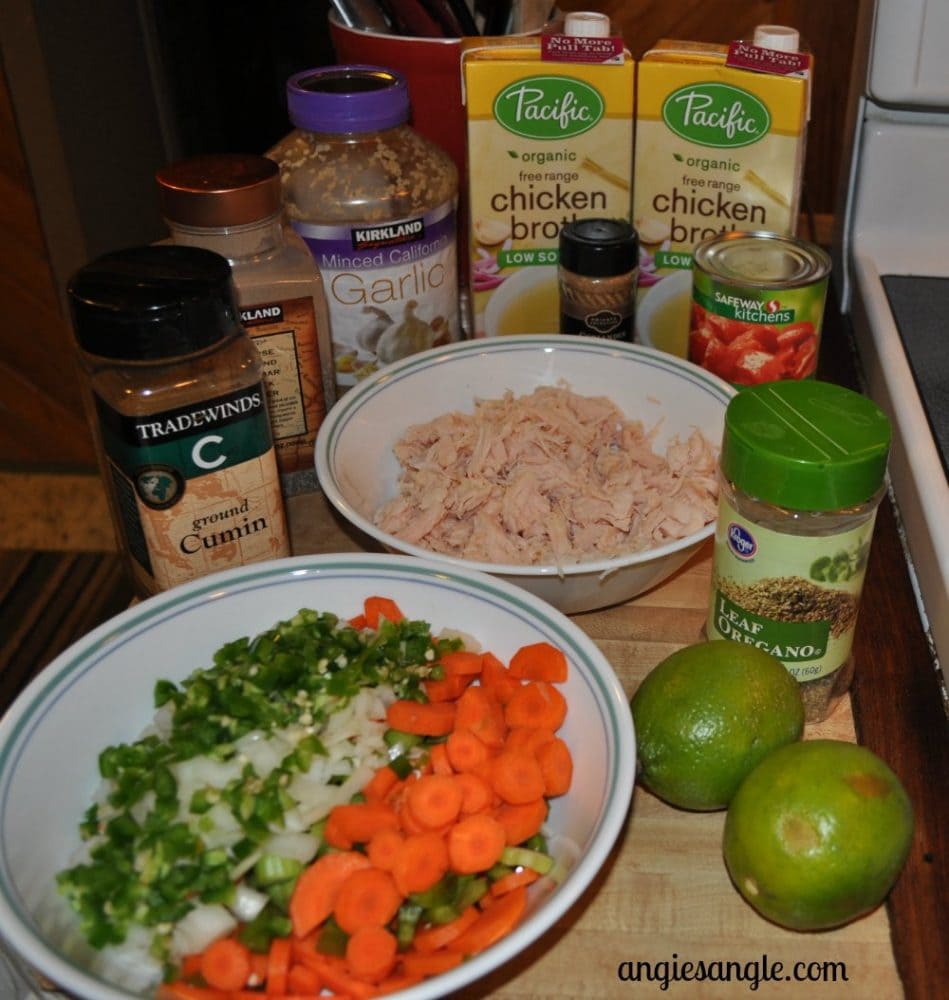 I gathered up all the ingredients to take a quick picture of it all to give you an idea of what was going into this soup. Instead of using cooked shredded chicken, I used canned chicken. It was easier to have on hand. I had Jason chop up all the veggies we needed and add them all into that bowl above: onion, carrots, celery, bell pepper, and jalapeno pepper.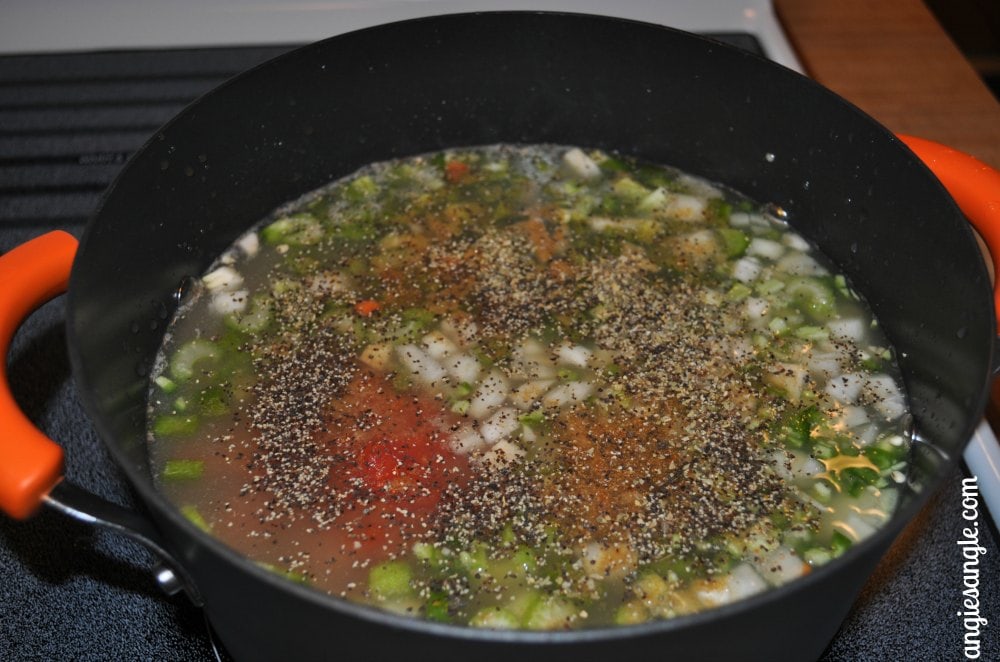 We throw everything pictured into the stockpot and bring to boil. Once it comes to a boil, cover and reduce it to low and let simmer for 15 minutes. Presto, that is it.
You can add chopped cilantro into the bowl and garnish with lime wedges if you so choose.
Chicken Soup with Jalapeno and Lime
Chicken Soup with Jalapeno and Lime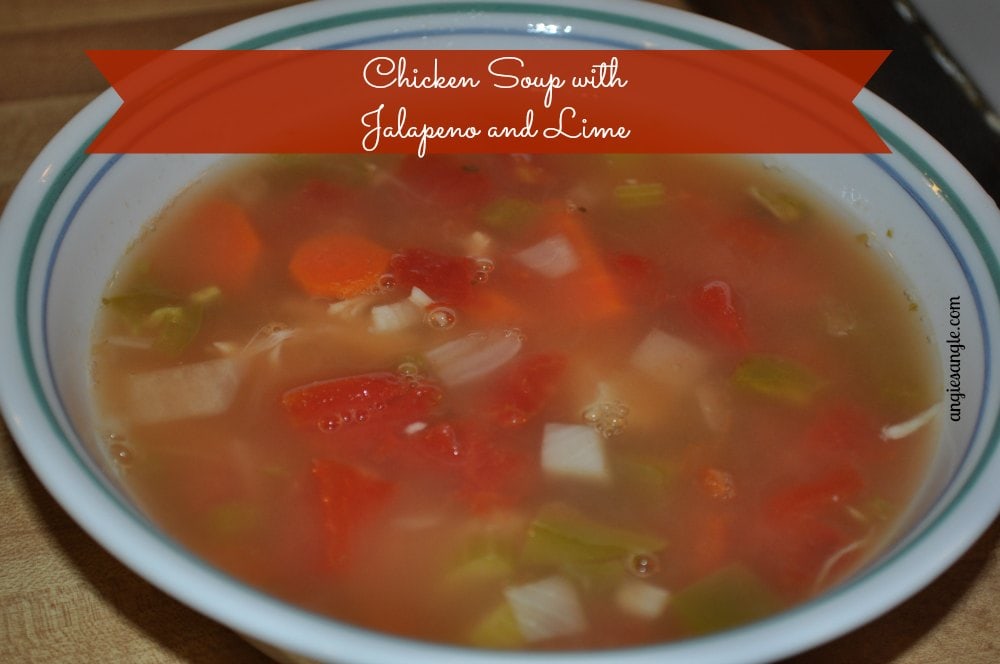 Ingredients
2 cups cooked, shredded chicken
1 medium red onion, diced
3 cloves garlic, minced
2 medium carrots, sliced
1 medium stalk celery, sliced
1 medium red bell pepper, diced
1 jalapeno pepper, minced
1 (15-ounce) can no-salt added diced tomatoes
Juice of 2 fresh limes
8 cups low-sodium chicken broth
1 teaspoon ground cumin
1/2 teaspoon ground coriander
1/4 teaspoon dried oregano
Freshly ground black pepper, to taste
2 tablespoons chopped fresh cilantro
1 fresh lime, cut into wedges
Instructions
Place all the ingredients except cilantro and lime wedges into a stockpot and bring to a boil over high heat.
Once boiling, reduce heat to low, cover, and simmer for 15 minutes.
Remove from heat, ladles into bowls, and garnish with chopped cilantro and lime wedges. Serve immediately.
Notes
*I used 2 jalapenos instead of 1 *I also used green bell pepper instead of red bell pepper *For added heft, you may ladle the soup over rice
https://angiesangle.com/2014/11/chicken-soup-with-jalapeno-and-lime/