We all hear it time and time again we have to take care of ourselves before we can take care of others. It's true but I know we all hate hearing it. We can not give and give without filling our own bodies. We need to feel good to make others feel good. I thought it would be fun to give you a list of 100 things you can do for self-care.
Sure some you probably already thought of but I am hoping a few will be new ideas to you and you'll run with them.
Fill your body with love and care. You'll be happier those around you will be happier. Try it. Embrace it. Live. And breathe.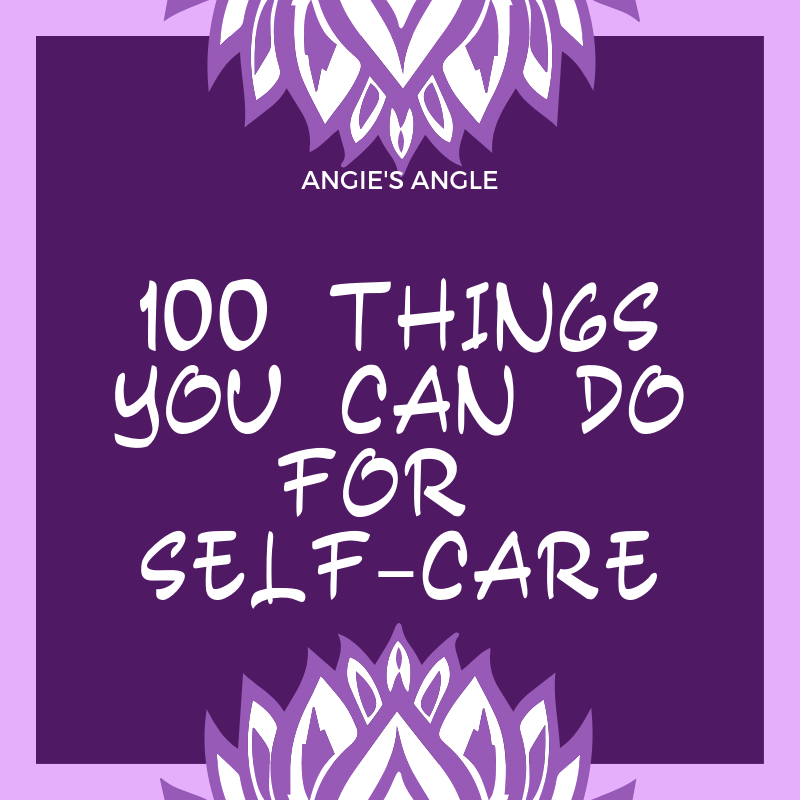 100 Things You Can Do For Self-Care
Read for pure pleasure (ask me if you need book suggestions)
Do a jigsaw puzzle
Meditate
Do yoga
Take a bubble bath
Take an exercise class
Do a facial at home ( Time for a Fall facial with my Favorites)
Paint your toes
Buy yourself flowers
Go out to eat alone
Find a fun game to play on your phone (my favorite is homescapes)
Take a community class
Binge watch a tv show or two
Have a girls night
Likewise to the above, take a full weekend with the girls
Have an overnighter by yourself
Do happy hour
Make date nights happen
Take an hour each day just for you
Have your favorite snack with zero guilt
Find a group to join in your local area
Call/text/message a friend to just say hi
Journal
Plan a game night
Get a massage
Go pleasure shopping/browsing
Buy that fancy dress/shoes/makeup
Find a good brunch place
Learn a new hobby
Purge your clothes
Give/take a long hug
Dance like no one is watching
Take a walk/jog around the neighborhood
Find a new hiking trail
Seek out a waterfall
Head to the mountains
Head to the ocean
See a play
Go see a movie in the theater
Go to a concert
Do a random act of kindness (ideas for this also coming soon!)
Volunteer
Have one on one time with your spouse/child/friend
Meet a friend for coffee
Color
Go for a mindless drive
Get your hair done (go for that bold color you've been eying, life is short)
Actively plan that dream vacation you've wanted to do forever
Do some front porch sittin' (this sounds silly but some of my happy and calmest times are the mornings where I can sit outside)
Go to a comedy show
Cuddle
Have sex
Rent your dream car for a weekend getaway
Go camping
Send out some real snail mail
Look at older photos and remember. Laugh, cry.
Take a sip and paint class
Schedule those yearly doctor appointments
Similarly, make your twice a year dentist appointment/cleaning
Make an eye appointment to check those peepers
Jump rope
Play hopscotch
Do a crossword puzzle, word search, mad lib, or suduko
Go for a pedicure or manicure somewhere or both
Go swimming
Try out an urban float
Take a dance class
Build with some legos
Get crafty
Bird watch
Go to the pet store and smile at all the cuties
Wiggle your toes in the sand
Soak up the sun
Dance in the rain
Watch the clouds
Go bowling
Play a video game
Stretch daily
Give in to that giggle
Indulge in a subscription box
Hold hands with someone
Cook your favorite meal
On the other end order in your favorite meal
Watch a cartoon
Go fishing or hunting
Treat yourself to your favorite dessert
Attend the farmers market in your area
Go thrift shopping
Take that nap
Five minutes of deep breathing
Pray
Do a double date
Give your whole body a body scrub – it'll feel amazing
Sing in the car
Be thankful – write a list of 5 things you are thankful for
Join a recreation sports team
Watch an old favorite movie
Go to a Zoo or Aquarium
Take in local history by visiting a local museum
Visit a local brewery or winery
Remember, self-care can and does include others too. This is all about what fills up your happy bucket. What centers you. And what helps your overall health – body, and mind. This is just a small dip in the bucket of what you can do for yourself.
Take the time to do self-care, as a result, your body and mind (and family/friends) will thank you!