I know. I know. I am getting this 2020 Catch the Moment 366 Week 42 up much later than normal. Friday & Saturday were bad days for me though, I was angry and felt like throwing the laptop half of the time. Because of that, I got very little work done on those days. Today is better, still a bit cranky, but better. So I am over here trying to get some work done. Up with the last week of photos first.
Post below may contain affiliate links, which I may receive a kickback on if you order through the provided link, at no extra cost to you.
This last week was also bad at taking photos; you can tell my mindset wasn't carefree. I only will have missed one day, but I stole one from Jason's phone. So honestly, I missed two days. One being a "cheat" day.
The week itself was weird to me, but I hope this coming week will be much better.
Without further ado, a little peek in our last week with photos.
2020 Catch the Moment 366 Week 42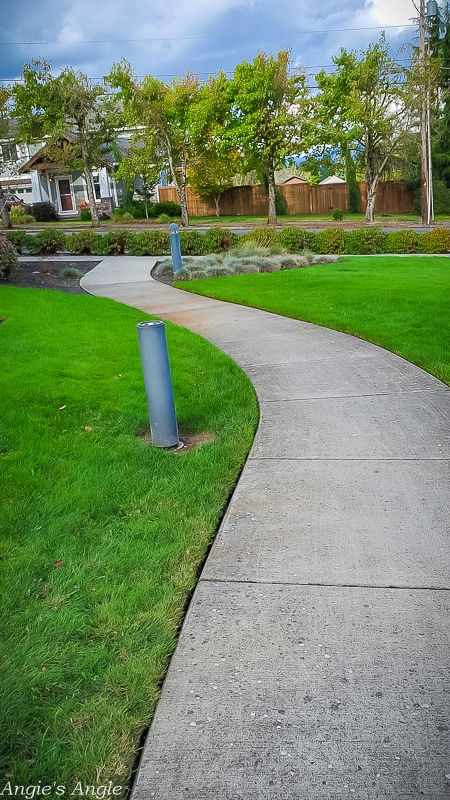 Day 288 – Wednesday, October 14th – No pictures on my phone for this day, so we took a look at Jason's phone. And viola. A "work" photo, but you'd never guess; it just looks like a pretty sidewalk/walking scene photo. Right?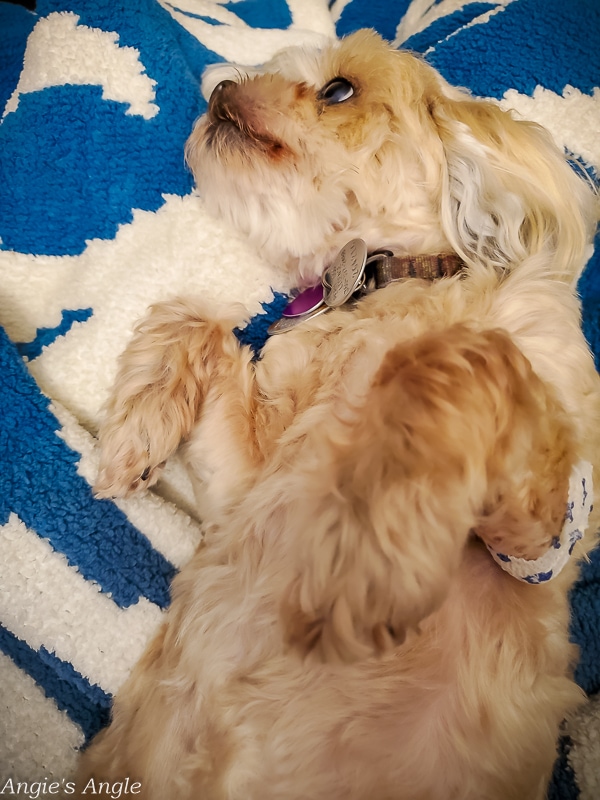 Day 289 – Thursday, October 15th – This girl of ours. If it's not one thing, it's another. She's been super duper itchy lately, and we don't know why. She ended up getting a huge scab on the back of her elbow there. And she kept opening it by itching more. That bandage worked for a short amount of time, but then I gave up and went to what you'll see in one of the next photos of her for the week.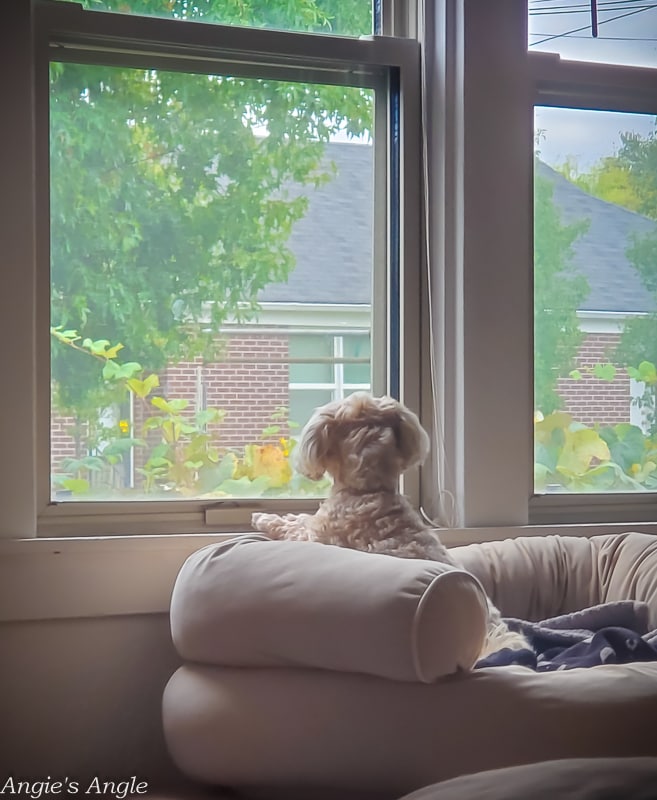 Day 290 – Friday, October 16th – I love her using her platform bed to watch outside. I had mentioned before she hadn't been getting up here much, and it was breaking my heart. But since I moved to the dining room table to work, she jumped up here more to watch outside. I love her.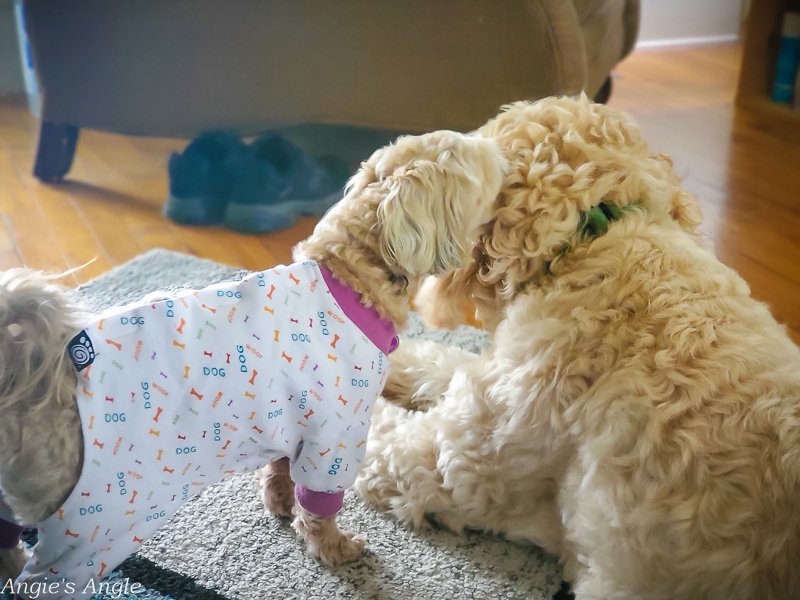 Day 292 – Sunday, October 18th – We caught Turkey out in the middle of the road, and instead of taking him home, we let him in the fence to play and visit some. Turkey is heading out for a few months, and we are going to miss him so much. Roxy, I think, sensed she might not see her Turkey for a bit. And yes, we put her in pj's to cover her elbow; worked well. However, she kept climbing out of them because they were slightly too big for her. Check out the post where Roxy's does some explaining about her and Turkey's relationship.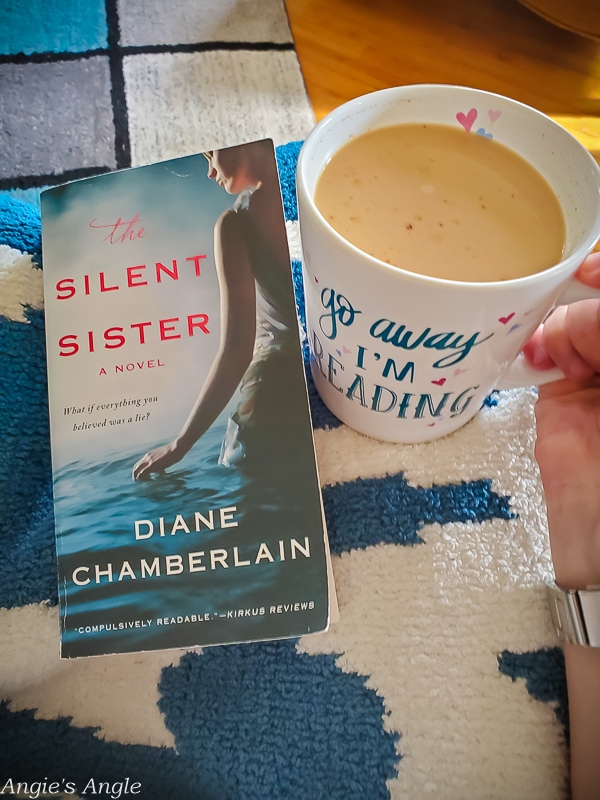 Day 293 – Monday, October 19th – Monday Monday – so good are you Monday. I love the start of a new week; it's just too bad this one wasn't great for me. But nothing wrong with my coffee drinking and book reading start to my day/week. The Silent Sister by Diane Chamberlain was excellent, you must read. I gave it five out of five stars.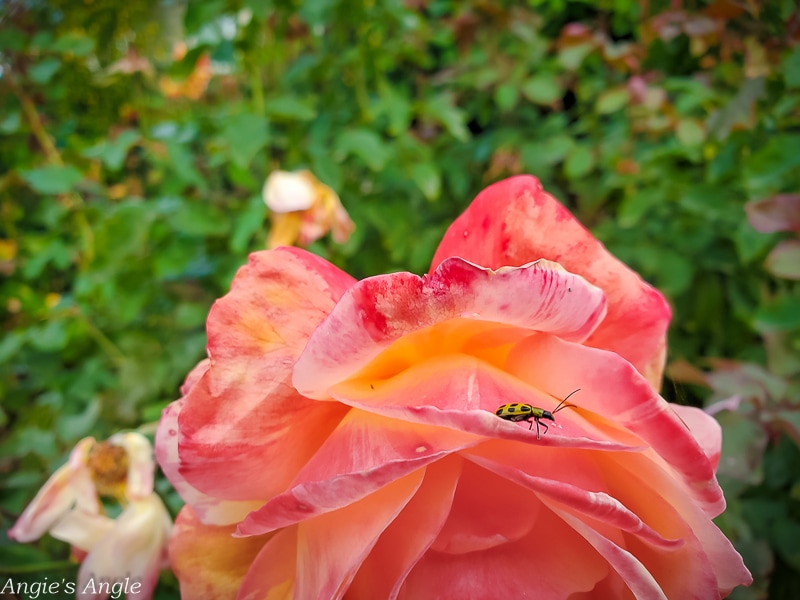 Day 294 – Tuesday, October 20th – Roxy and I took a walk around the neighborhood and captured some fun flower photos. I thought a little walk and outing might improve my mood and make me less sleepy. But it did not; in fact, I took a nap when we got back home.
How was your week?