Links used below are from Amazon and while I am an Amazon Associate, buying through the links below may provide the blog a kick-back for you doing so, at no extra charge to you.
Books are one of my passions. I love reading. But as a blogger, I completely stink at doing actual full book reviews. Rarely will you find them posted on the blog. There is one gal I do them for and those are few and far in between. Because I do love reading and do it often, as you see on Instagram, I thought a fun way to bring my love of books to the blog.
Each month, I'll be sharing with you all the books I have read the previous month. Giving you the stars I gave them along with a description from Amazon and linking to the book to buy on Amazon if you so choose. So look forward to each month to the books I read and a little of what I thought of them.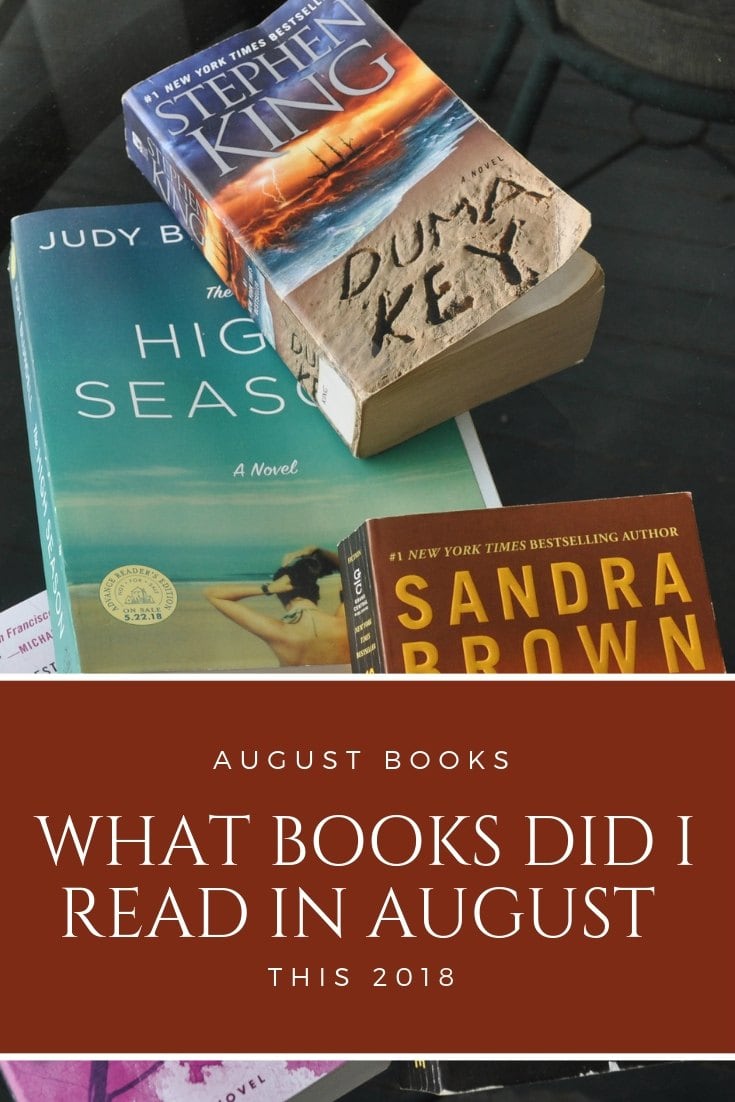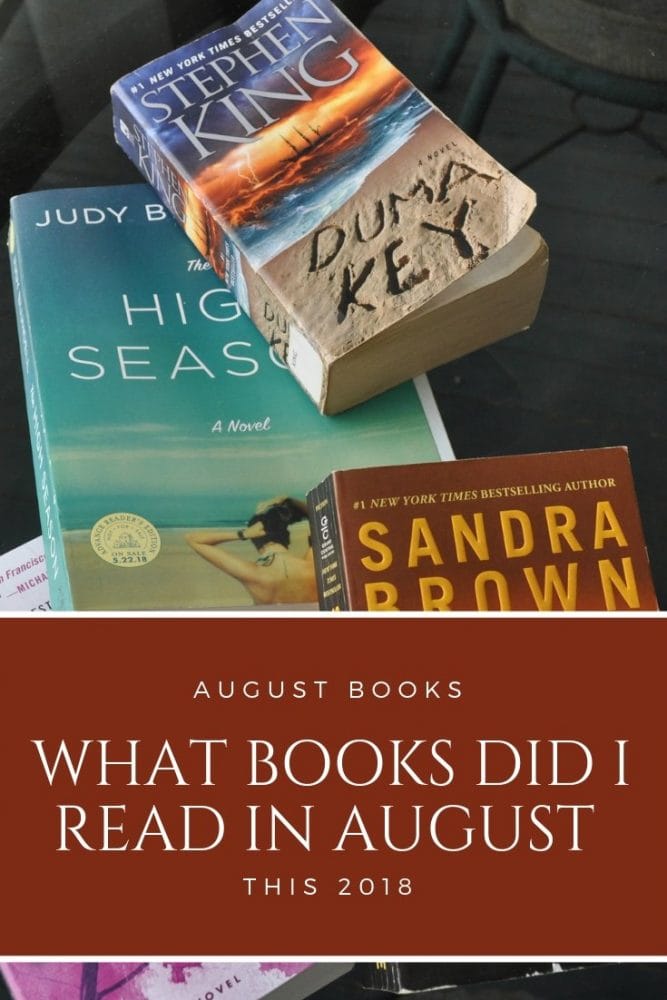 What Did I Read in August 2018?
It's been no secret around here that all I have been wanting to lately is read. Which is part of the reason the blog has been so quiet, but I am trying really hard to get back into the swing of things around here. Just please be patient with me. I hope I am not losing a ton of you because of my being quiet.
With all I have been wanting to do is read, I once again have a high number of books read from the previous month. It's a repeat of what I read in January with 6 books read in August 2018. Wahoo, I love that high number.
In fact, my goal for the year is already almost made with all the reading I have been doing. I always set my number of books to read each year as 50. I sometimes get it, often I don't. This year I am going to blow past it.
3 out of 5 stars
I won this book from a Goodreads giveaway a few months back. It was a decent little book. There is something perfect about reading "beach" books during the summer months. So I try to throw in one or two each summer month.
No matter what the world throws her way, at least Ruthie Beamish has the house. Lovingly renovated, located by the sea in a quiet Long Island village, the house is her nest egg—the retirement account shared with her ex-husband, Mike, and the college fund for their teenage daughter, Jem. The catch? To afford the house, Ruthie must let it go during the best part of the year.
It's Memorial Day weekend and Ruthie has packed up their belongings for what Jem calls "the summer bummer": the family's annual exodus to make way for renters. This year, the Hamptons set has arrived. The widow of a blue-chip artist, Adeline Clay is elegant, connected, and accompanied by a "gorgeous satellite" stepson. But soon Adeline demonstrates an uncanny ability to help herself to Ruthie's life—her house, her friends, even her husband (okay, ex-husband, but still). And after her job as the director of a local museum is threatened, Ruthie finally decides to fight back…
4 out of 5 stars
This is the first book of the Will Trent series. I had read a later one and someone told me it was part of a series and I should start in the beginning. I was not disappointed at all and will be reading the full series without a doubt.
From Atlanta's wealthiest suburbs to its stark inner-city housing projects, a killer has crossed the boundaries of wealth and race. And the people who are chasing him must cross those boundaries, too. Among them is Michael Ormewood, a veteran detective whose marriage is hanging by a thread—and whose arrogance and explosive temper are threatening his career. And Angie Polaski, a beautiful vice cop who was once Michael' s lover before she became his enemy. But unbeknownst to both of them, another player has entered the game: a loser ex-con who has stumbled upon the killer's trail in the most coincidental of ways—and who may be the key to breaking the case wide open.
In this gritty, gripping firecracker of a novel, the author of the bestselling Grant County, Georgia, series breaks thrilling new ground, weaving together the threads of a complex, multilayered story with the skill of a master craftsman. Packed with body-bending switchbacks, searing psychological suspense and human emotions, Triptych ratchets up the tension one revelation at a time as it races to a shattering and unforgettable climax.
3 out of 5 stars
A good solid book. Left me guessing a few times but probably wasn't a favorite of mine.
Carl Herbold is a cold-blooded psychopath who has just escaped the penitentiary where he was serving a life sentence. Bent on revenge, he's going back to where he began–Blewer County, Texas…
Born deaf, lately widowed, Anna Corbett fights to keep the ranch that is her son's birthright, unaware that she is at the center of Herbold's horrific scheme–and that her world of self-imposed isolation is about to explode…
Drifter Jack Sawyer arrives at Anna's ranch asking for work, hoping to protect the innocent woman and her son from Herbold's rage. But Sawyer can't outrun the secrets that stalk him–or the day of reckoning awaiting them all…
5 out of 5 stars
This was a big thick book, but I didn't want to put it down. It drew me in from the very first pages and left me turning quickly throughout the book.
No more than a dark pencil line on a blank page. A horizon line, maybe. But also a slot for blackness to pour through…
A terrible construction site accident takes Edgar Freemantle's right arm and scrambles his memory and his mind, leaving him with little but rage as he begins the ordeal of rehabilitation. A marriage that produced two lovely daughters suddenly ends, and Edgar begins to wish he hadn't survived the injuries that could have killed him. He wants out. His psychologist, Dr. Kamen, suggests a "geographic cure," a new life distant from the Twin Cities and the building business Edgar grew from scratch. And Kamen suggests something else.
"Edgar, does anything make you happy?"
"I used to sketch."
"Take it up again. You need hedges…hedges against the night."
The Austere Academy by Lemony Snicket
3 out of 5 stars
I am just not enjoying this book series as much as I thought I would. There are 13 in the series and I am going to finish them all since I collected them all to read.
As the three Baudelaire orphans warily approach their new home Prufrock Preparatory School, they can't help but notice the enormous stone arch bearing the school's motto Memento Mori or "Remember you will die."
This is not a cheerful greeting and certainly marks an inauspicious beginning to a very bleak story just as we have come to expect from Lemony Snicket's A Series of Unfortunate Events, the deliciously morbid set of books that began with The Bad Beginning and only got worse.
When Good Friends Go Bad by Ellie Campbell
3 out of 5 stars
The only kindle book I read for the month but a good one. Learning about the friends took a few pages in before I felt I knew where the story was leading and how it was flipping back and forth between time periods.
All through school, tomboy Jen, snobby Georgina, hippy Meg and gentle Rowan, were inseparable. Until that is, the unfortunate consequences of a childish prank tore them apart. As adults, an attempted reunion went disastrously wrong. Rowan failed to appear. Meg behaved outrageously and, sharpest cut of all, Jen discovered just how deeply Georgina had betrayed her.
So now, a mother herself, in the midst of a divorce, the last thing Jen needs is a call from Meg. Or is it? Will Meg's strange mission to track down the missing Rowan re-open old wounds or is it a chance to heal the rift – or to recover Jen's never-forgotten, first true love? As their quest unearths secrets and feelings best left buried, Jen, Meg and Georgina will be tested on love, loyalty, and friendship, discover the truth about Rowan – and wake a danger that threatens them all.
In case you want to check out June & July, April, March, February, and January reads.